Everything You Need to Know About Amazon Household

Bring the family together!
September 19, 2023
23 minutes
What you'll need
Interests
Posted in these interests: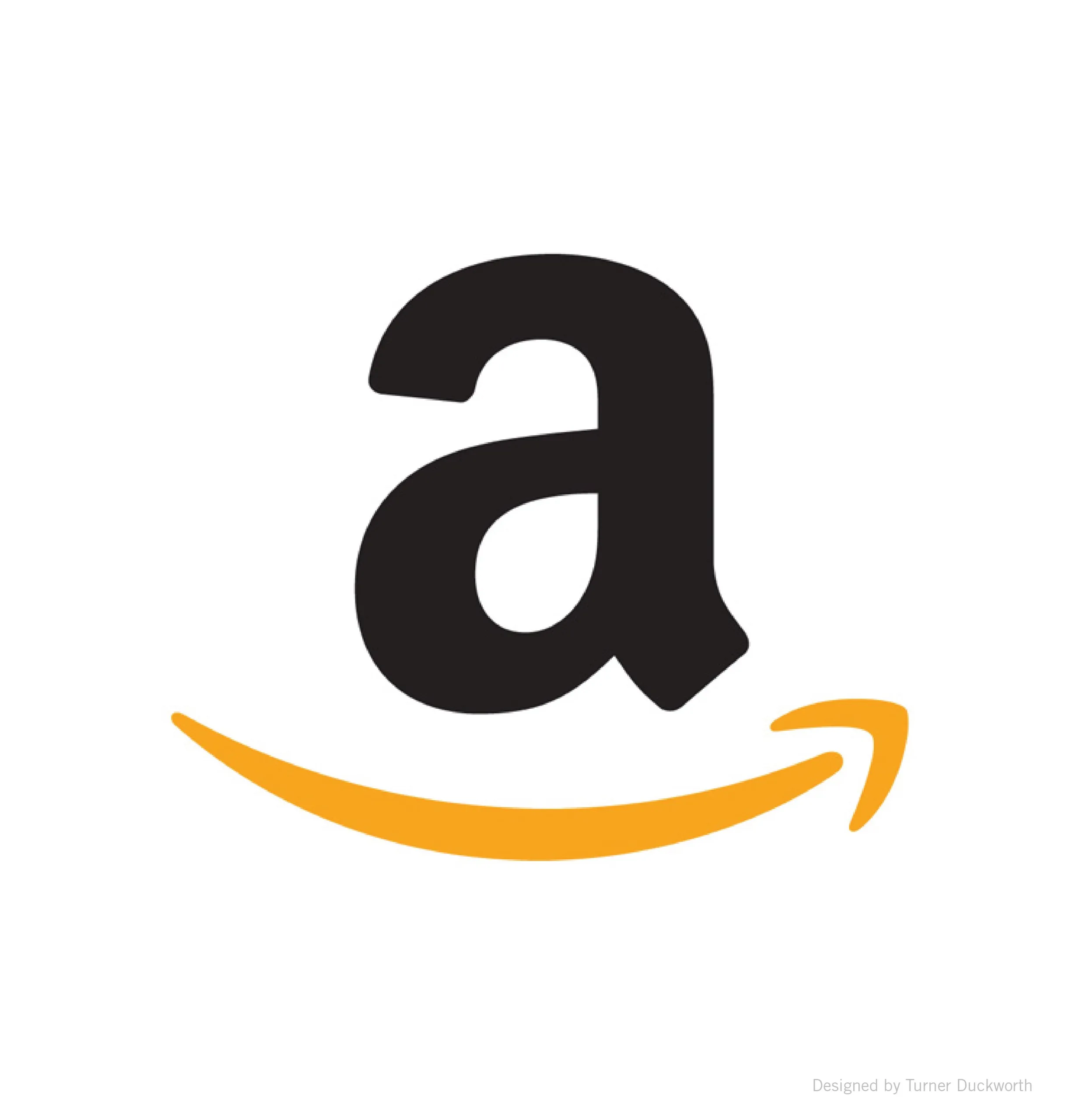 If you're an Amazon Prime member you understand just how great the benefits are. From free shipping and discounts to streaming and media sharing, Amazon has something for every member of the family.
With this guide, you'll receive a comprehensive tour of Amazon Households, and you'll click away knowing how to set up an account, establish your family members in your household, share music and movies, and more.
Let's get started!
What is Amazon Household?
Amazon Household is a system that allows Amazon Prime members to share their Prime benefits with the family. Up to two adult, four teen, and four child profiles can be added to a Household.
How is it Different from Amazon Family?
While browsing through Amazon you may have come across something called Amazon Family, which is different from Amazon Household, and here's how:
Amazon Family is a program that gives Prime members some serious discounts on items like diapers, baby food, and more. In Amazon Family, you have access to a database of articles full of tips and tricks to raising children.
A Quick Note About Amazon Household
In order to sign up for Household, you have to have at least one adult, which is defined as someone over the age of 18. You can only add one more adult to your account.
Only with two adults can you add four teen and four child accounts.
1 – Benefits of Amazon Household
There are many benefits to creating an Amazon Household, especially if you want to share with the whole family. Here is a list of a few of my favorites!
Adults can share Prime benefits with their children and teenagers while monitoring their activities.
Free two-day shipping is shared with the entire family.
Unlimited photo storage that comes with enhanced search and storage options.
Discounted prices on monthly memberships for Prime Video Channels like HBO, SHOWTIME, and STARZ.
The ability to easily and safely share media between members.
A Quick Note About Teen Accounts
Teen accounts are young adults from ages 13 to 17, and they're able to log in to their own Amazon accounts and stream content. They can link any card to their account, but adults have to approve the card as well as any charges applied to the card.
They can also set up a text message alert for any intended cost over a certain price. Adults on the account can see a list of everything the teen purchased, but they can't see anything the adult purchases.
Let's dive into how to set up a Household account!
2 – How to create an Amazon Household
Time for the fun part – setting up your Amazon Household account!
In order to start your account, you need to have an Amazon prime account, which you can set up for $12.99 a month. You might also be eligible for discounts! If you don't already have an account, see this guide on getting Amazon Prime for Free (or cheap).
The Amazon system is pretty intuitive to set up, but I'll walk you through the process too! Let's jump into the steps of setting up your own account:
Log in to your Amazon Prime account. To do this, navigate to the Amazon homepage and log in to your account by clicking on the Accounts & Lists icon at the top of the page, to the right of the search bar.
Once you've logged in to your account using your email and password, you'll be redirected to the homepage again. Click on the same Accounts & Lists icon again.
Scroll down to the box titled Shopping programs and rentals. Click the Amazon Household option. This is where you can begin the process of adding people to your Household.
3 – How to add an adult to your Amazon Household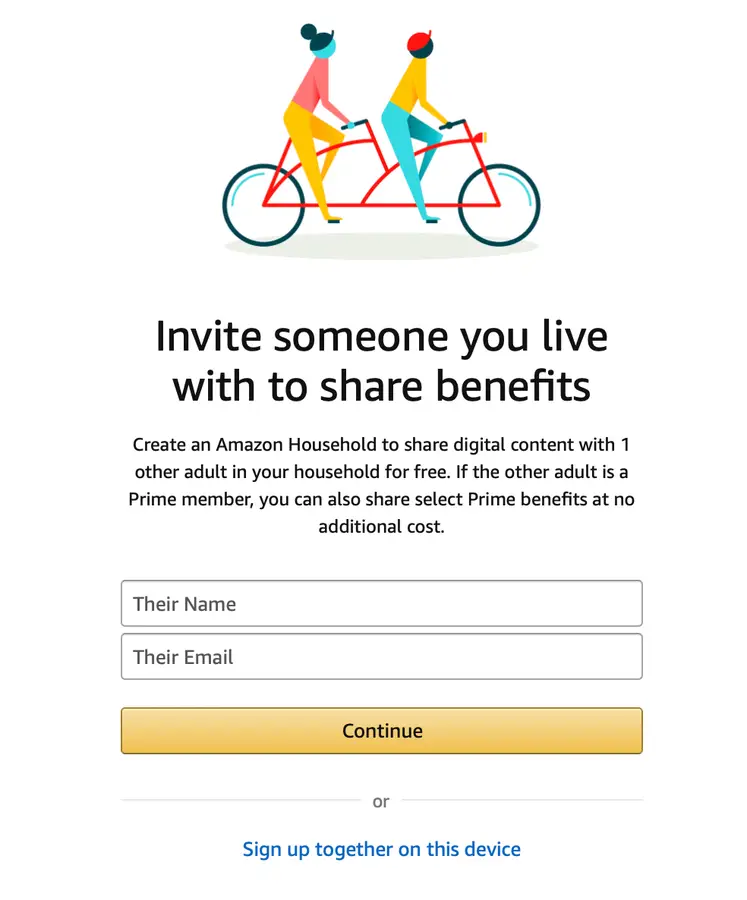 There are three options for adding people to your household and I'll break them down for you below!
Adding an Adult
Start by clicking the Add Adult option at the top of the screen.
Here, you'll have two options. Either enter their name and their email before clicking the Continue option, which will just add them to the account or click on the Sign up together on this device. This will make them the secondary adult on the account. For this guide, I'll walk you through the second option.
From here, the second adult will be asked to verify their account by logging in using their email and password. Next click Verify second adult's account.
From here you'll be asked if you want to share your payment options and Amazon Prime benefits with the person. If you agree, simply click on the circles to the left of each of the options and click on the Create Household option highlighted in the standard Amazon gold at the bottom right of the screen.
You'll then be redirected to a screen that will show the two profiles side-by-side. Click on the new adult and click Complete at the bottom right. This screen will verify the card information on each account, whether you're sharing the same card or using two.
From here, you'll be asked to verify how much you want to share in terms of apps, games, and eBooks. This is completely up to you. Feel free to mark everything to your needs and click on the Next option in the bottom right.
4 – How to add a teen to your Amazon Household

Start by clicking on the Add a Teen option on the Amazon Household homepage.
This will redirect you to the Teen Page that details how adding a teen to your account works. Click on the Sign up now option at the top of the page to start the process.
Follow the prompts to set up your teen account and select account preferences including payment options, shipping addresses, and notifications. The notifications page is important because this is where you can enter your phone number if you want notifications about your teen's orders. Just click on the Add Phone Number option and enter in your phone number on the next page before clicking Continue.
Next, connect your teen's email or phone number and click Continue.
This will send out an invitation to the teen which they have 14 days to accept. To accept, they need to follow the prompted text or email, which will redirect them to the stage where they can sign in to their account or create a new one.
5 – How to add a child to your Amazon Household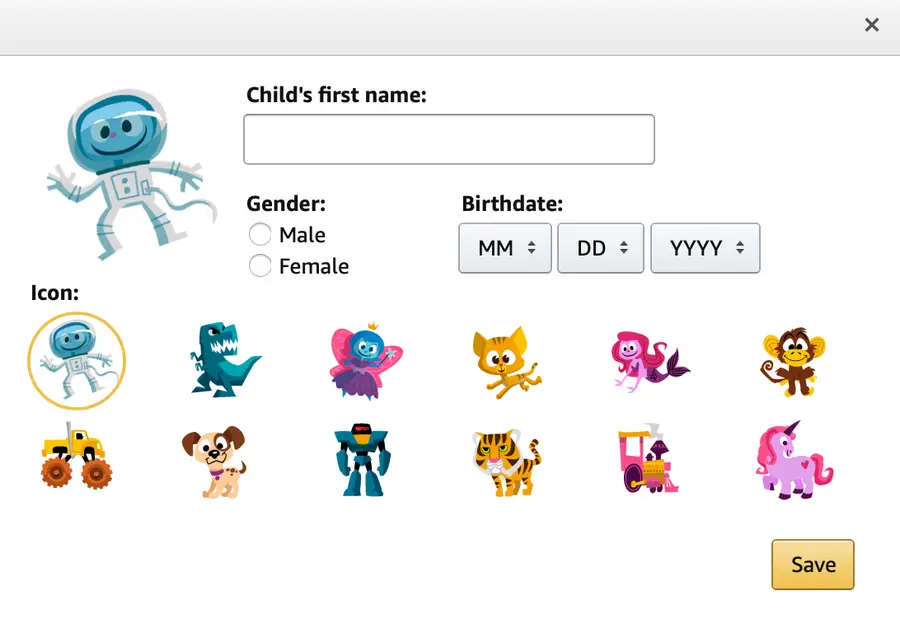 Start by clicking on the Add a Child option on the Amazon Household homepage.
A small window will pop up where you can enter the child's name, gender, and date of birth. Click Save in the bottom right of the page when you've entered the information.
With that, your child's account has been added. You, the adult, control everything the child has access to. You will then be redirected to the page where you can manage your Household and their benefits.
6 – How to monitor your Amazon Household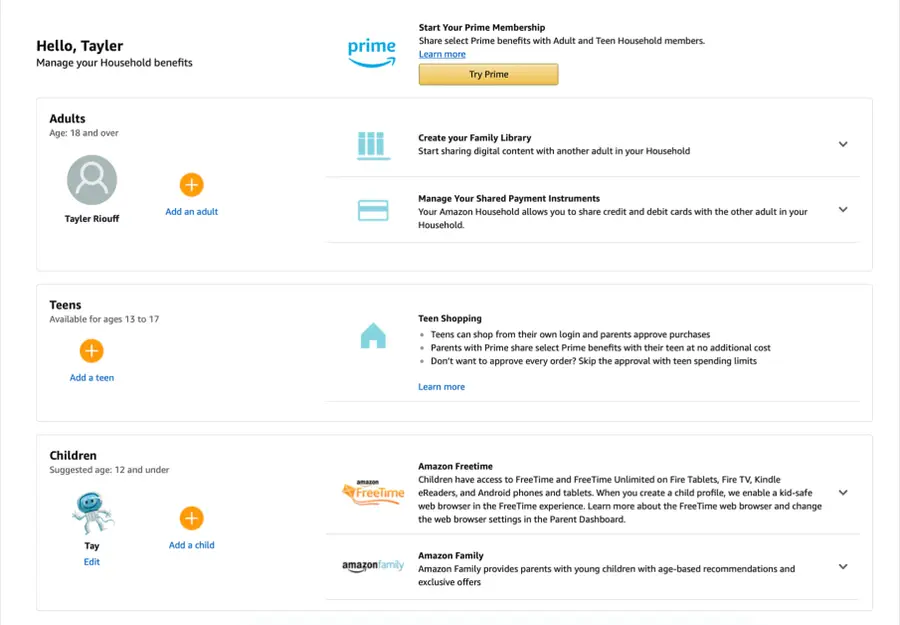 If you ever need to monitor what the members of your household are doing, visit the Manage your Household Benefits page where, at any time, you can change any aspect of your account.
To reach this page, click on the Accounts & Lists option on the Amazon homepage and click on Amazon Household. On the Amazon Household page, click on the option to Manage Your Household in the bottom right of the banner at the top.
Once you have all of your members added (in the case of the screenshot provided, I've only listed myself as an adult and Tay, my nickname, as a child to give you guys an example!), click the downward-facing arrows to the right of their descriptions to open and edit their access.
Each description will have a more detailed breakdown that will pop up once you click on the arrows. There will be embedded links that you can press if you want to learn even more or edit the information.
7 – How to remove someone from your Amazon Household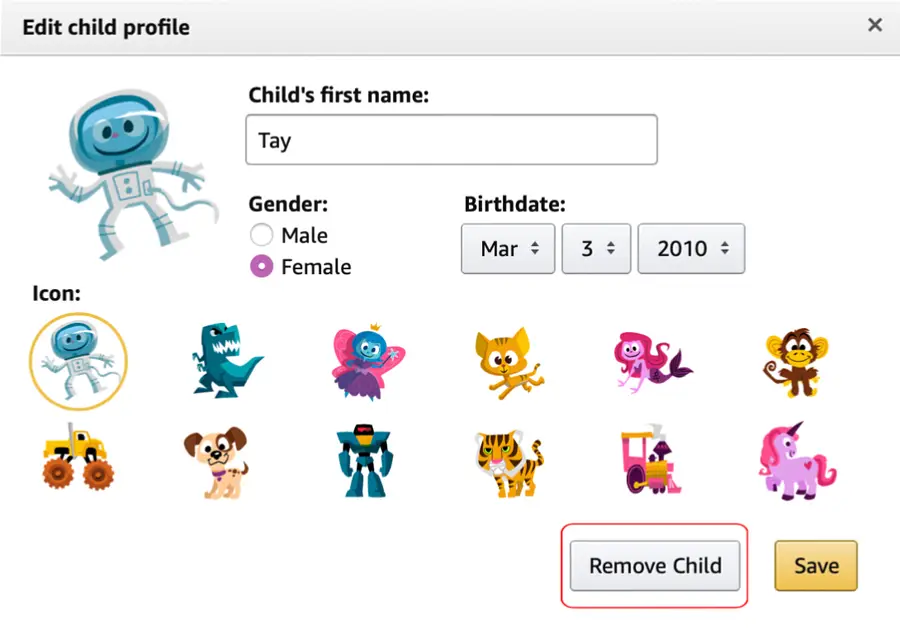 Deleting someone from your Household is easy and can be done at any time. Just follow the steps below!
On the Manage your Household Benefits page, scroll down to the member you'd like to remove.
Click on the Edit option beneath their name.
The account's information will pop up (in the case of the screenshot, I'm deleting the child account I created for "Tay"). Click the Remove Child option at the bottom to remove the child's account from your Household.
8 – How to share movies and music with your Household

One of the coolest parts of having an Amazon Household account is the ability to share media, such as movies, music, and pictures, with the members of your family. To share media with your family, you must first make sure that each person you invited to your account has access to all media.
This was completed during the process of adding people to your Household.
Click on the Accounts & Lists icon in the upper right-hand corner of the screen.
Scroll down to the Digital content and devices box and click on the first option, Manage content and devices. This will redirect you to a new page.
Along the upper part of the screen, right beneath your address in the upper left-hand corner, click on the Content tab.
Select the Show Family Library option right beside the options to sort your content. I've indicated this with a red square.
With this option selected, you can determine which content your teen or child can see and access. You can filter your content according to books, videos, or music, though you must have a subscription to the services such as Prime Video and Prime Audio. If you have access and you want your teen/child to have access to certain programs. I'll show you how to specify which one.
To share, click on the empty box beneath the Select list on the far left.
With your items selected, click the Add to Library button at the top of the list. This is where you can add items to your Family Library. Once the items have been added, click OK in the bottom left-hand corner.
When you're done, feel free to exit to the Amazon homepage!
Viola! You now have all of the tools and walk-throughs to make sure your Household is set up and functioning, so you and your family can enjoy Amazon separately while remaining connected.