Top 10 free brushes in Clip Studio Paint

September 27, 2023
12 minutes
What you'll need
Interests
Posted in these interests: Do you work in Clip Studio Paint? Are you feeling some artblock? Do you want to expand your toolkit and/or experiment with your art?
Clip Studio Paint's Assets portal is the best place to go! CSP users upload tons of downloadable assets, including many different brushes to work with! Whenever I'm feeling a bit in an art rut, I like to play with new brushes. I find that being able to experiment with new tools can sometimes lead to new inspiration. CSP Assets has a range of tools and materials, costing from free to requiring in-application currency. This article will focus on the free tools since there are plenty of great ones that you can download! If you want to learn how to download and install new assets, read this article first!
Downloading and Adding Assets in Clip Studio Paint
Now, onto my top ten favorite free brushes in Clip Studio Paint!
1 – Good pen (いいろペン)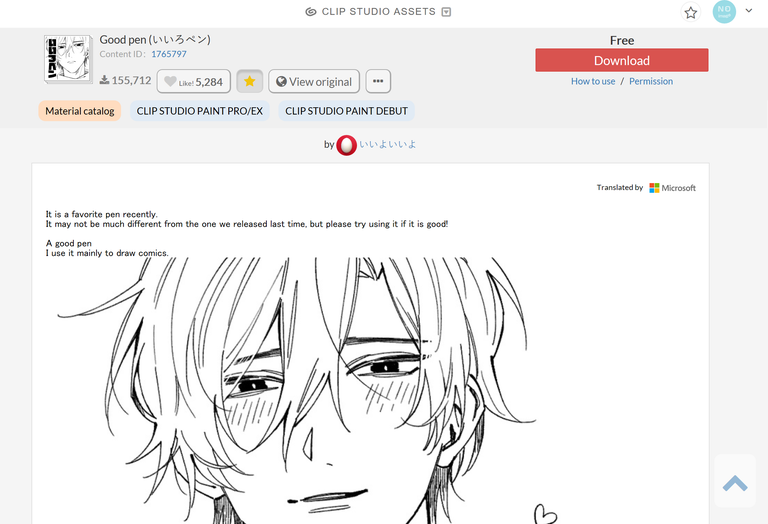 Sometimes, what you get is exactly what it says on the tin. Japanese user いいよいいよ (allgood) created the self-named Good Pen (いいろペン), which is highly appropriate. This is genuinely one of the best lineart pens I've come across on CSP. It has that traditional manga-esque ink style to it, a thin grittiness, and is very responsive when it comes to pen pressure. Nine times out of ten, I'm using this pen to ink my lineart. I cannot recommend this one enough.
2 – Legend Sai Pen (PC version)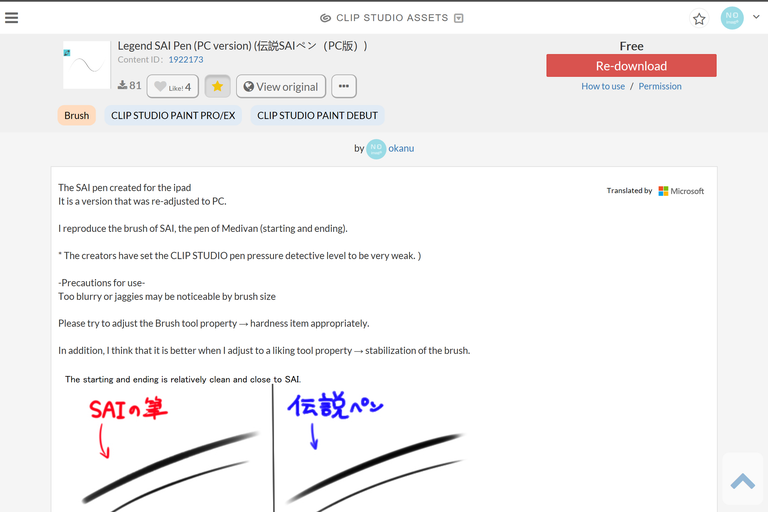 If you're like me and are someone who moved to CSP from PaintToolSAI, then this is the brush for you! One of the reasons I frequented PaintToolSAI over Photoshop was because the brushes felt more natural and blended easier in PaintToolSAI. If you're a SAI user looking for something familiar, then this brush is as close as you can get. CSP user Okanu created this brush (and an iPad version!) to have the same feel and texture of the original PaintToolSAI brush. I did find that the initial download felt too light and airy for me (which is akin to SAI's style), so I upped the opacity and paint thickness to 100%. It still has that SAI smoothness, and works just fine even with the settings tweaked.
3 – DAE Pen 12345 Set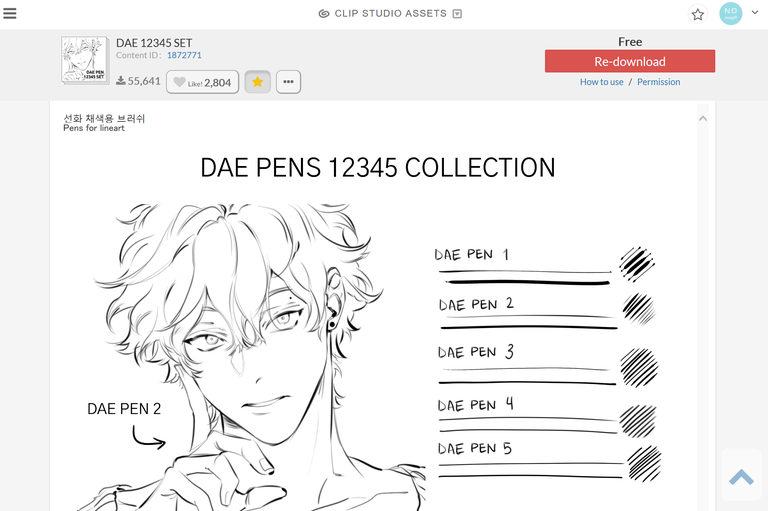 If you're looking for more options in terms of lineart, CSP user 대 (dae) has a full set of lineart pens. When you download this asset, you get five free pens (I know, I'm cheating the whole 'top ten' thing)! Dae's pens range from varied line thickness to a smoother, lighter texture. Having a full set can be beneficial if you're looking to vary up the lines or are illustrating a piece entirely by inking. Dae also has several other sets, such as a sketch and paint set, so definitely check those out too!
4 – Lineart Pencil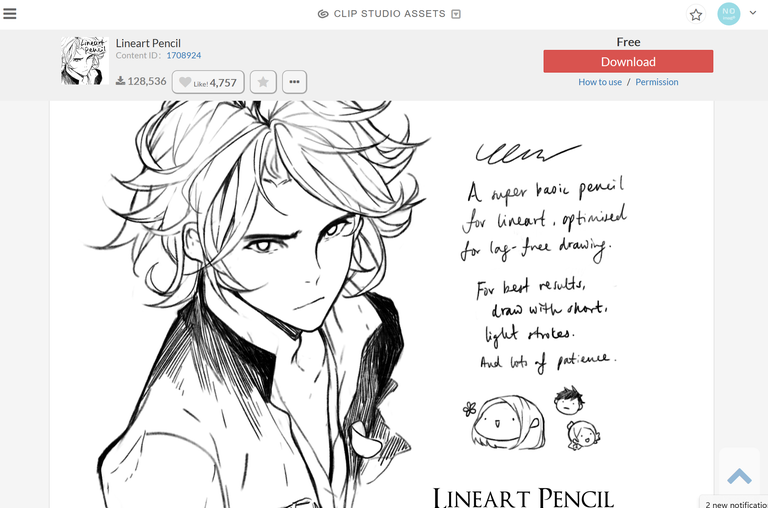 This lineart pencil by Escente has a bit more grit than some of the lineart brushes listed so far. It definitely airs more on the 'pencil' side and has great sensitivity, allowing the artist to shade more effectively. It takes a bit of practice using, but it feels really nice to draw and sketch with.
5 – Qamala's Graphic Marker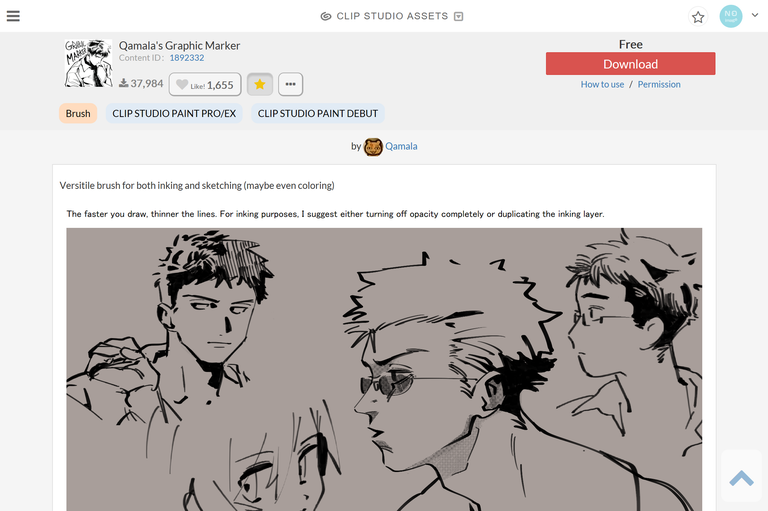 This marker truly feels like a graphic marker! It's inky, has a flatter head, and is perfect for shading. If you want to use it for some chunky lineart, I suggest following Qamala's tips regarding turning down the opacity and/or duplicating the inking layer.
6 – Illustrator Pen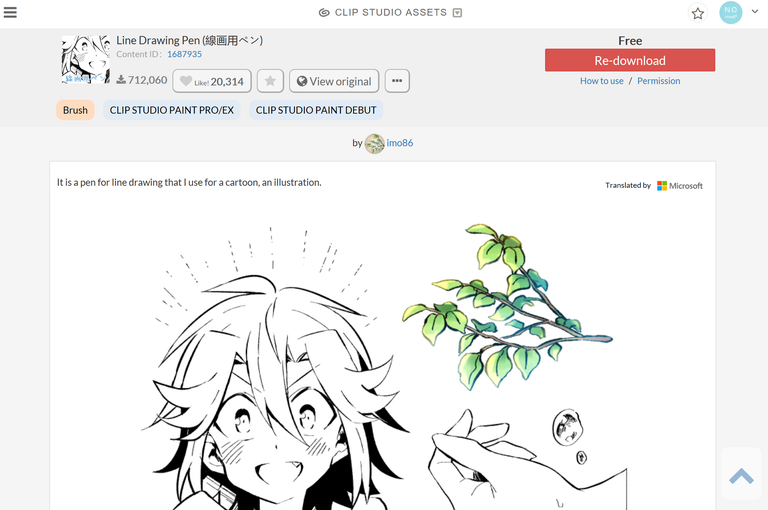 Ranked #2 on CSP Asset's popular search under free brushes, Imo86's Illustrator Pen is a great starter tool for both lineart and shading. It's more akin to a modern brush pen with just enough tooth to vary your lines.
7 – Watercolor marker and texture set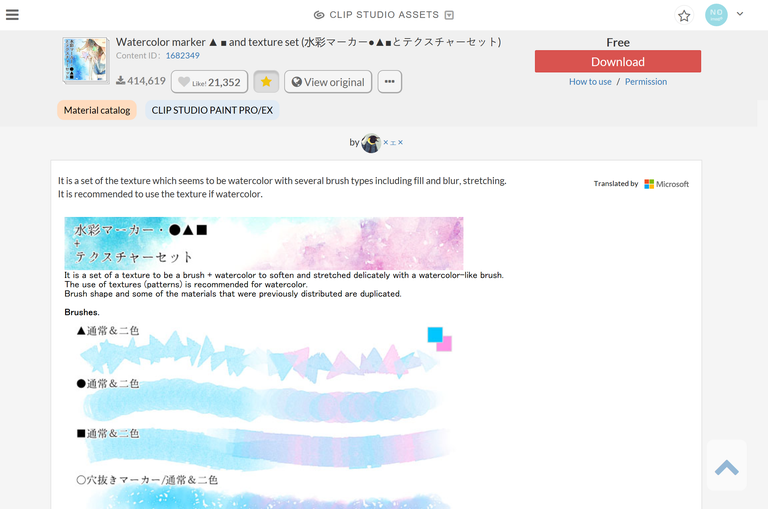 Okay, so this is another cheat on the top ten rule, but this watercolor marker and texture set by CSP user ×ェ× is absolutely gorgeous. Not only do you get thirteen brushes ranging from watercolor markers to blending brushes, you also get three texture and layer sets and an additional three tools, including a water stain brush. Using this set effectively requires practice and learning to layer the textures properly, but the end result looks like a watercolor painting on watercolor paper.
8 – Color Ink Wind Brush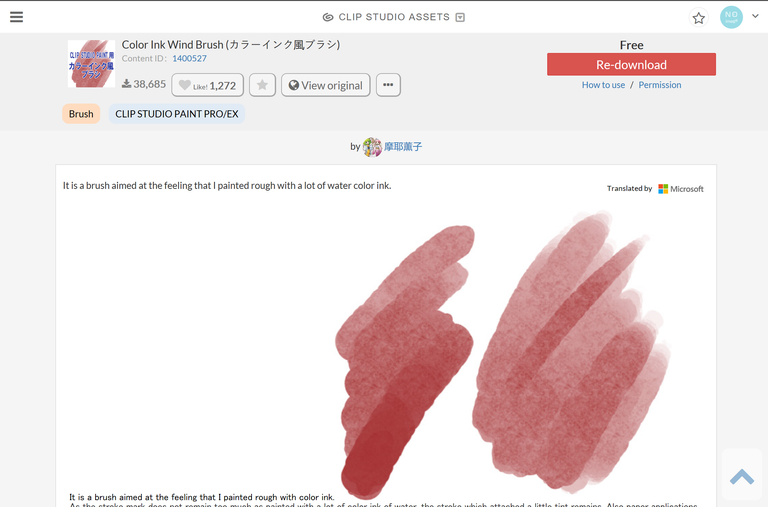 If the last set seems a bit too complicated to start out with, try 摩耶薫子 (Mayakaoruko)'s Color Ink Wind Brush instead. This brush feels like a cross between a watercolor brush and painting with ink. It has a really nice texture to it already, and is a simple tool for creating a piece with a more watercolor or brushed ink look.
9 – Color Changing Brush!
This brush slightly changes the tone of whatever color you're using. It's super fun! This can be helpful if you have a hard time picking out colors or shades within the same color family. It feels a bit like working with oils or acrylics. If you're looking to craft a piece with a more painterly feel, try PokiHan's brush out!
10 – Copic Texture Brush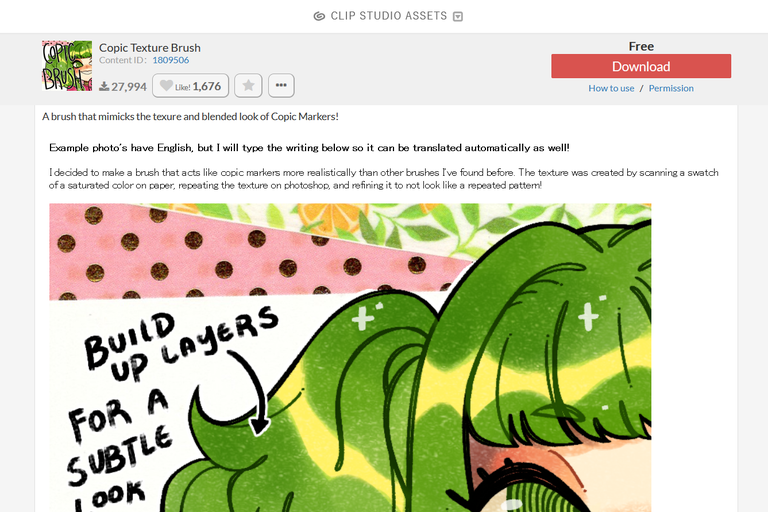 Have you ever worked with copic markers? Then, this copic texture brush is a great digital option! CSP user AcidKeyLime created this brush to not only imitate the texture of a copic marker but also the intensity of one. AcidKeyLime recommends building up the saturation for darker colors, just like using real copic markers! See further notes on this brush on AcidKeyLime's page.