Top 25 Cottagecore Starter Houses for Minecraft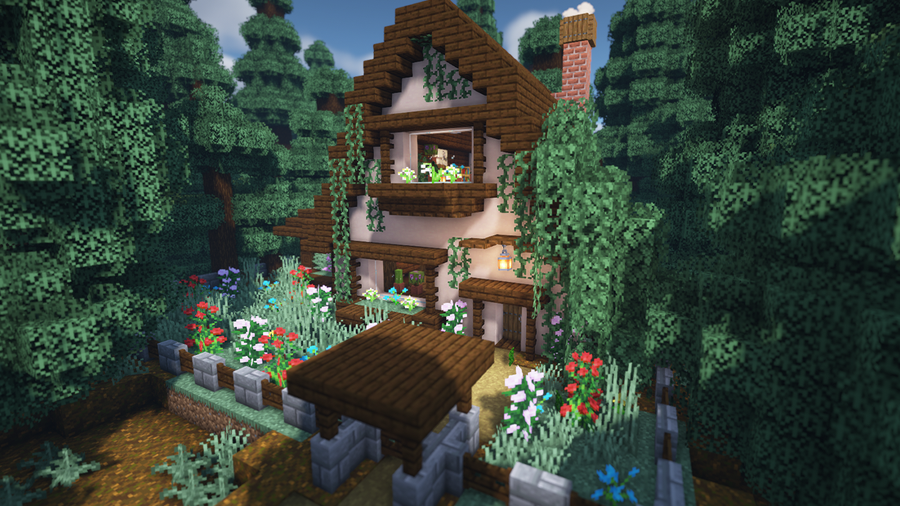 Get cozy and get building!
September 12, 2023
27 minutes
The first few days of Minecraft are the most stressful, which means a good starter house is required to keep you safe from mobs and the elements (and have a place to spawn back to in the event of an unfortunate interaction with a skeleton or zombie).
What defines a good starter house?
Simplistic Design: Regardless of building skill level, large builds are realistic to starter houses. They should take a few days, at most, and even a new player should be able to build it.
Attainable Materials: The materials need to be easy to gather or find, which is why most builds are made of stone and wood.
Includes the Essentials: What good is a house if it doesn't have a bed? It should also have space for farming and storage to help you survive long enough to get better tools and experience.
What makes up a cottagecore style house?
In Minecraft, there are blocks for all types of builds. Cottagecore starter house designs include a lot of stone, wood, and (of course) greenery. They're great for early game in Minecraft because their resources are easily found in the Overworld. For those who have fallen down a TikTok cottagecore hole or simply just want a cozy cabin to escape to, cottagecore and fairycore Minecraft builds are meant for you.
However, that doesn't mean concrete, sandstone, or even terracotta are out of the running. The following builds vary in shape and location so that anyone looking for a cottagecore starter base can build it!
From desert to flower forest (to even a mushroom), this list features cottagecore starter homes for all skill levels!
1 – Mizunos Starter Cottage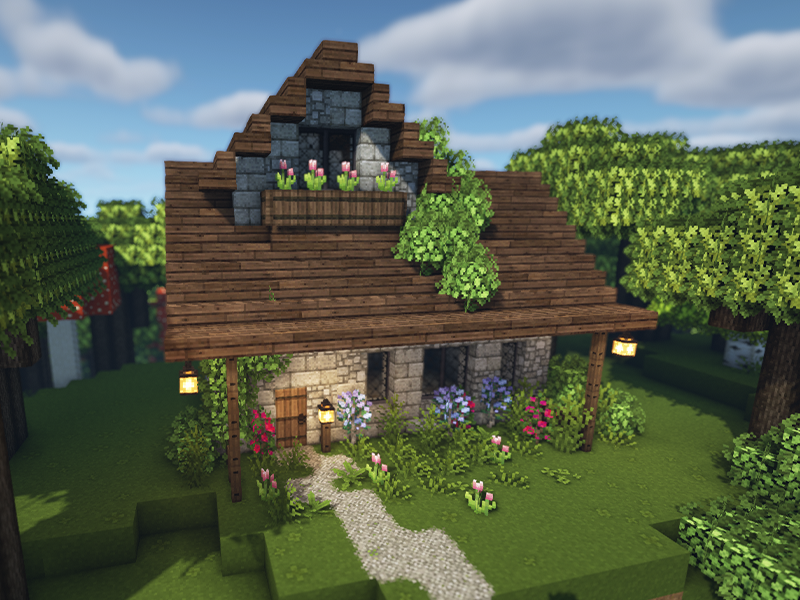 Tutorial by Kelpie The Fox
Biome: Forest
A delightful build which looks amazing with Mizuno's 16 resource pack! For anyone looking for a simple but detailed cottage in the woods, look no further than this tutorial. If you'd like to use vanilla textures, then this build still looks great (just change up the indoor flooring).
Featured Blocks



2 – Perfect Cozy Cottage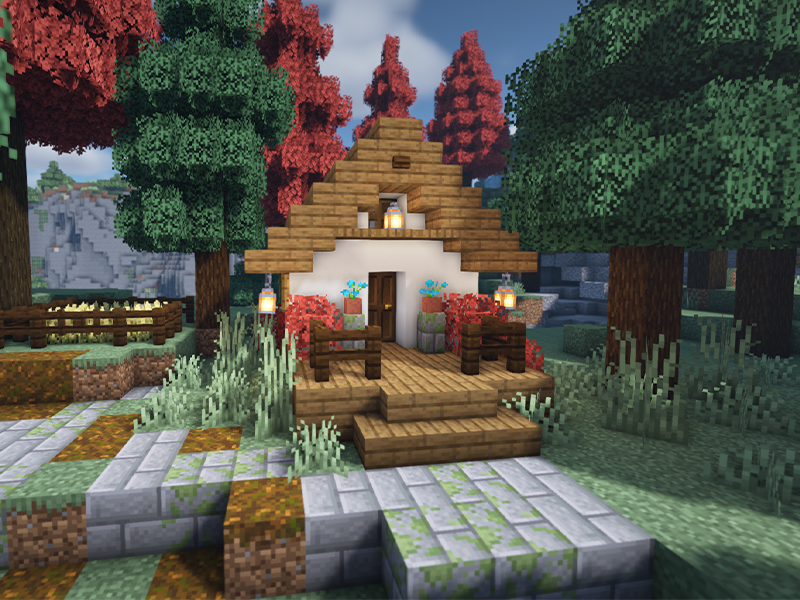 Tutorial by ByPixelbot
Biome: Forest
While this cottage is perfectly tiny, with just enough room for starting tools, it can also be translated to a bigger scale if wanted! The structure is a simplistic design and made of materials easy to get in early game!
Featured Blocks



3 – Pumpkin Spice Tiny House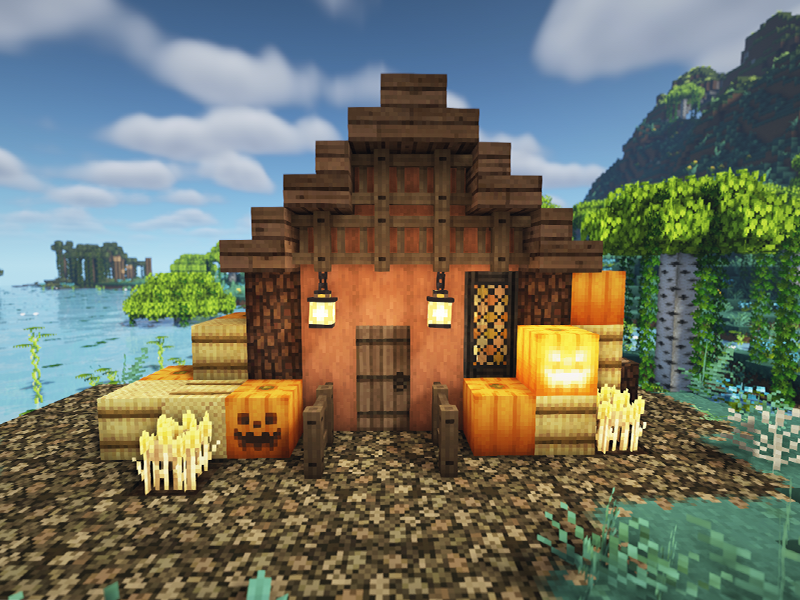 Tutorial by Kelpie The Fox
Biome: Plains, Forest, Savanna
A perfect fall inspired house! Not only does it have easy-to-obtain blocks, but it's a great build for anyone new to Minecraft to try. The outside decor is made of a simple palette, but still manages to fill up the space so that the house doesn't feel foreign to the area. This build was done with Mizuno's 16 resource pack.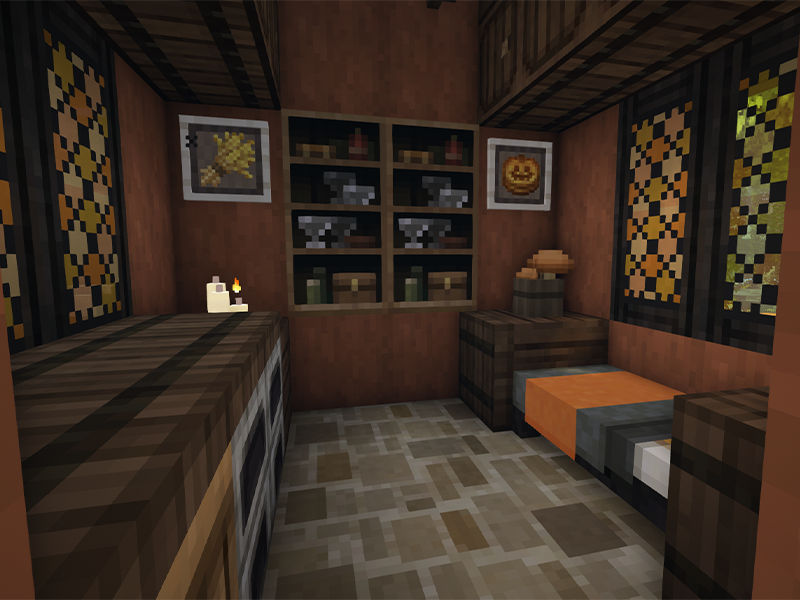 Featured Blocks




4 – Flower Cottage House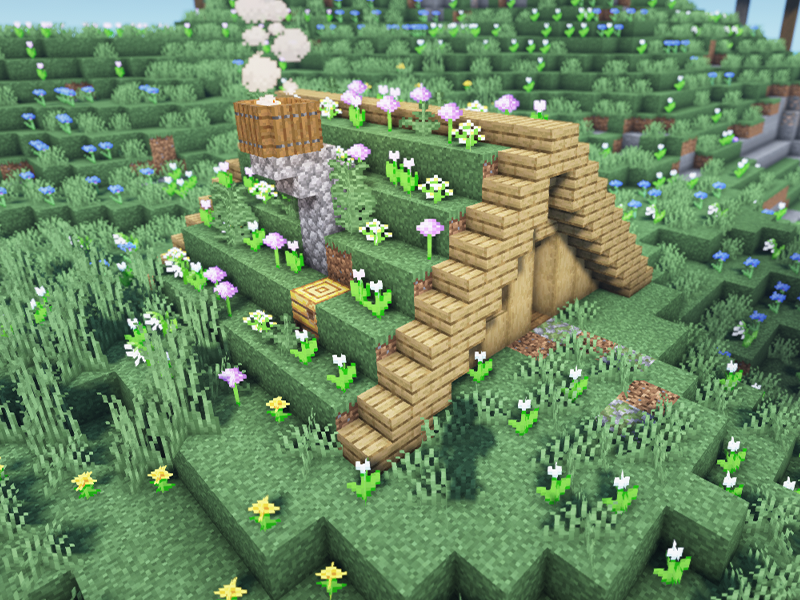 Tutorial by TinyCraft
Biome: Flower Forest, Forest
This specific design is one I've used in multiple servers and Minecraft gameplay. It's such an easy build for those in early game or for those who want a home that blends in with the landscape. Our list of Traditional Starter Houses features a similar build if you're looking for an alternative block palette!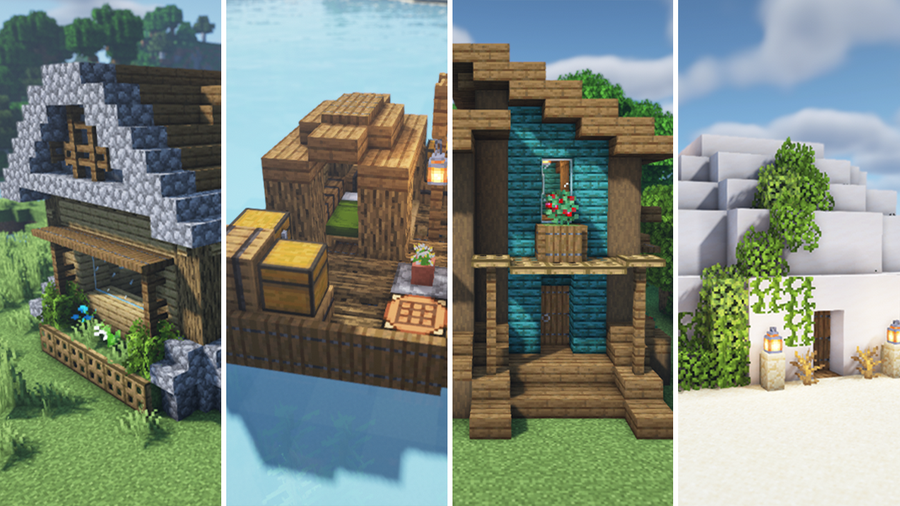 Featured Blocks



5 – Cottage with Greenhouse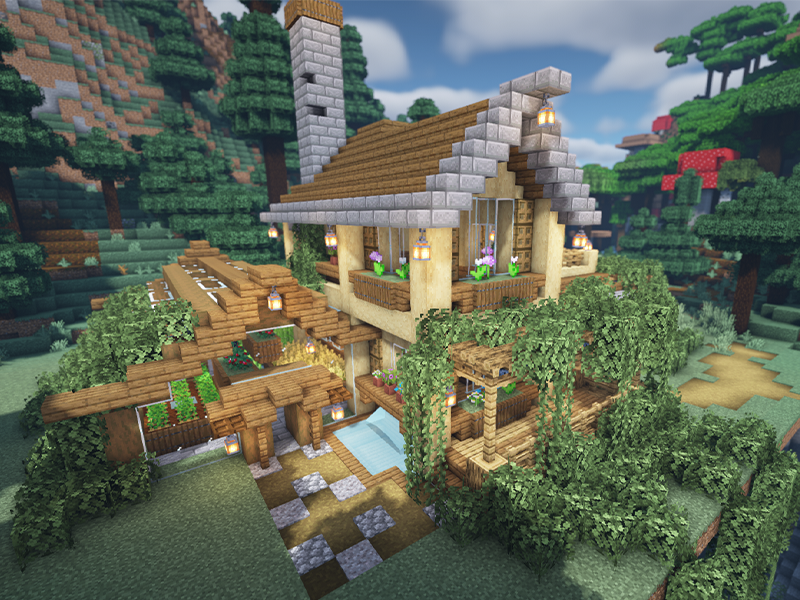 Tutorial by Jolee
Biome: Any
This build is meant for those looking for an early game challenge. Or just want a nice greenhouse to store their crops. This might be the starter house that takes the longest to build on this list, but it's so worth it! This cottage is meant to last you some time, as there's room for anything you could want!
Featured Blocks





6 – Cottagecore Starter House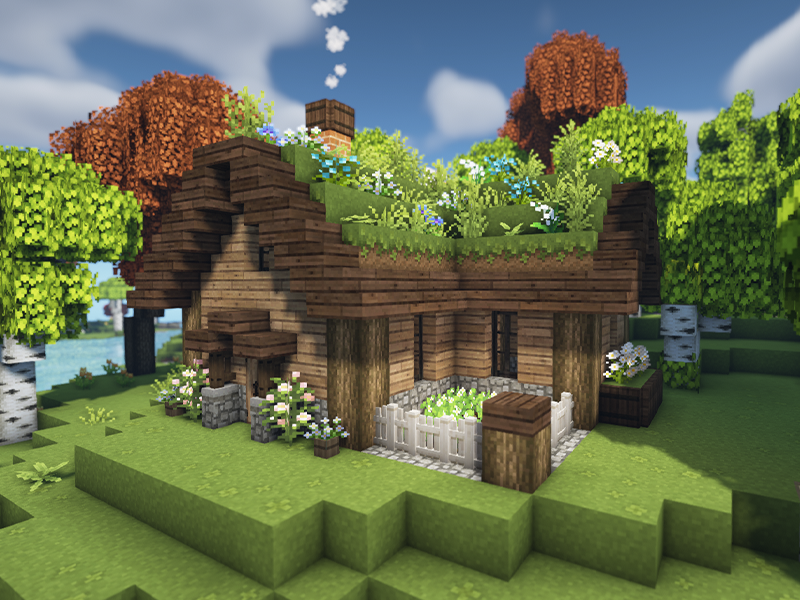 Tutorial by Another CF
Biome: Forest, Plains
An alternative to TinyCraft's design is this lovely home! It's cozy, it's cute, it's just so cottagecore! Using Mizuno's 16 resource pack, this home has space for all the flowers you could want. It's a quick and easy build that fits just about any biome!
Featured Blocks



7 – Small Cottage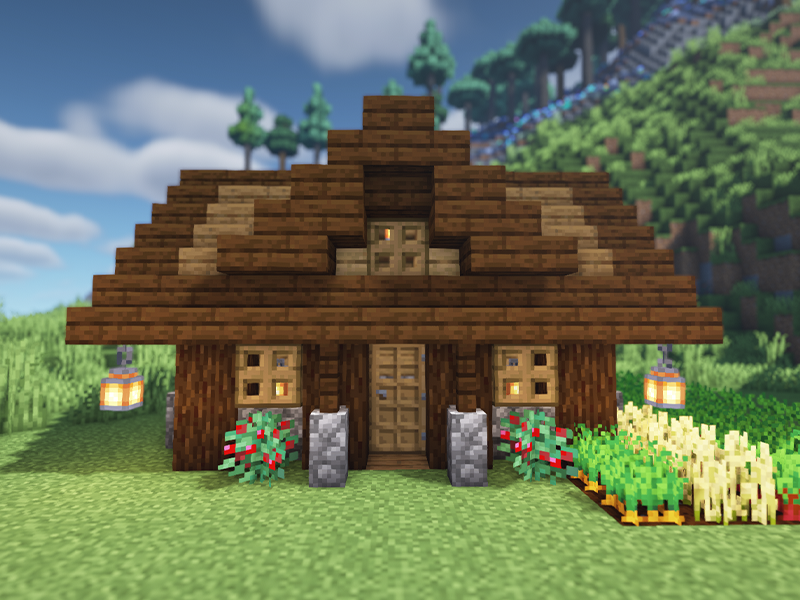 Tutorial by Ayvocado
Biome: Forest
Similar to a traditional style home, it's really a quaint starter house for any type of player. We love the farm area off to the side, and this building allows for a secret water source so that you can surround your house with farmland if you wanted!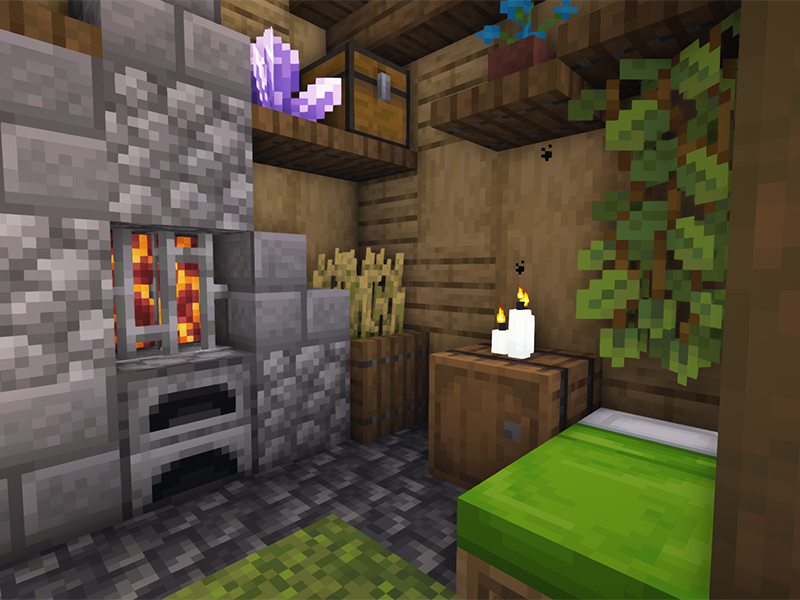 Featured Blocks



8 – Upgradeable Cozy Starter House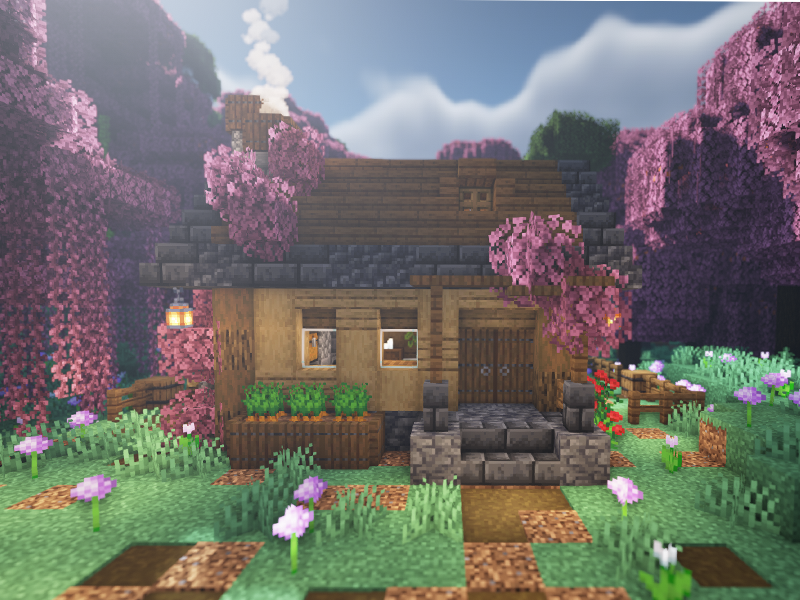 Tutorial by SheraNorm
Biome: Any
Our favorite thing about this tutorial is that SheraNorm showcases how to build the base structure, and then offers up ways to alter it with different blocks and decorations! This build design is perfect for fitting all your needs compactly, even including a mine entrance!
Featured Blocks



9 – Cottagecore Survival Base
Tutorial by Platinum Thief
Biome: Forest
We'll preface this by saying the interior design should be altered to fit your needs. While this design has a small interior, it's perfect for those looking to get shelter early in the game. What we love about this house is that all blocks can be altered to fit your preferred color scheme or aesthetic!
Featured Blocks



10 – Cute Cottage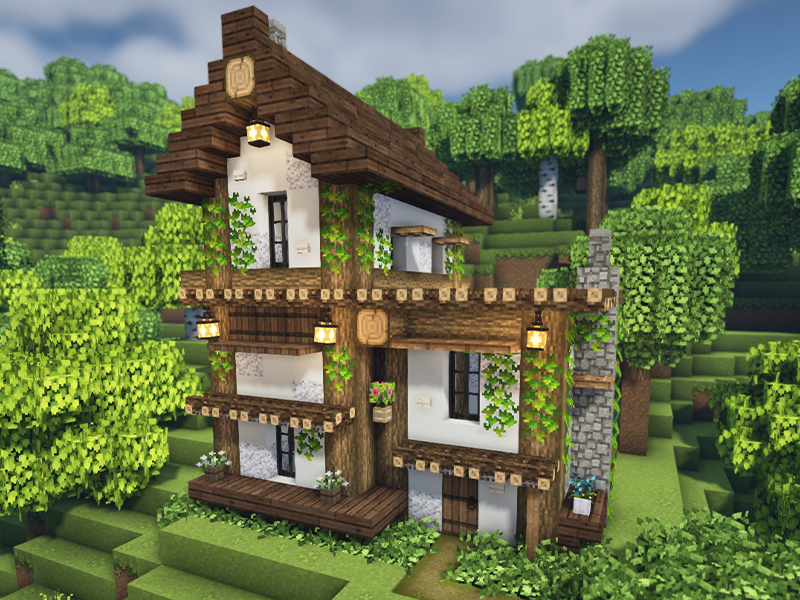 Tutorial by A1MOSTADDICTED MINECRAFT
Biome: Any
This build is absolutely beautiful and one of our favorites. We did deter the palette in our version, however. Rather than quartz, we switched to white concrete for an early-game friendly version. We also found that using Mizuno's 16 resource pack made the build look even cozier!
Featured Blocks



11 – Fantasy Cottage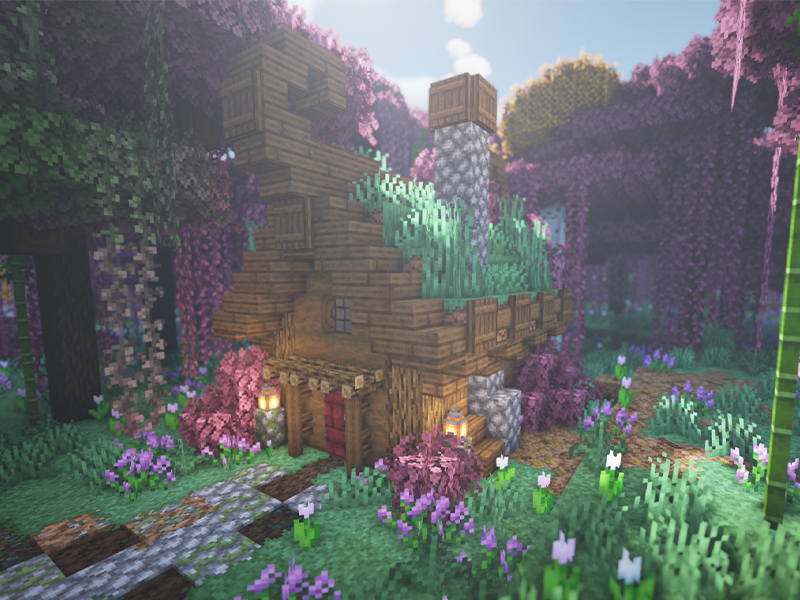 Tutorial by BigTonyMC
Biome: Forest
Are you a witch, wizard, or wix looking for a quaint home to build in the forest? This fantasy cottage is made just for you! Using [JermsyBoy's Vanilla Edits](https://www.curseforge.com/minecraft/texture-packs/jermsyboys-vanilla-edits], this overgrown roof is the perfect addition to any home wanting a more fantasy vibe. The tutorial is easy to follow, even offering up variations and ideas on what to do within and around the cottage.
Featured Blocks



12 – Sandstone Starter House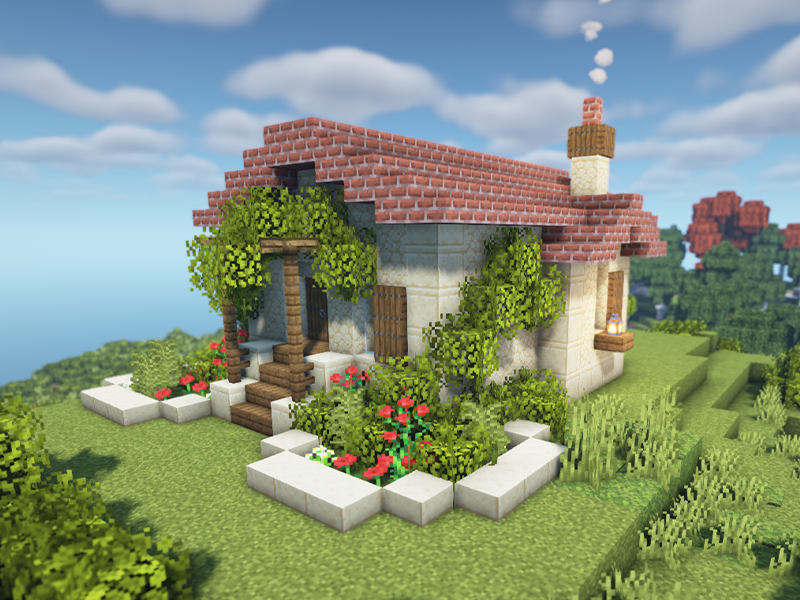 Tutorial by BlueNerd Minecraft
Biome: Savanna, Desert
Don't go thinking that savanna biomes can't also be cottagecore! This build is all about using sandstone and other warm biome blocks in a cottagecore design. Featuring a combination of sandstone, bricks, and spruce, this build fits right into the landscape that usually doesn't feel so cozy.
Featured Blocks



13 – Cute Starter House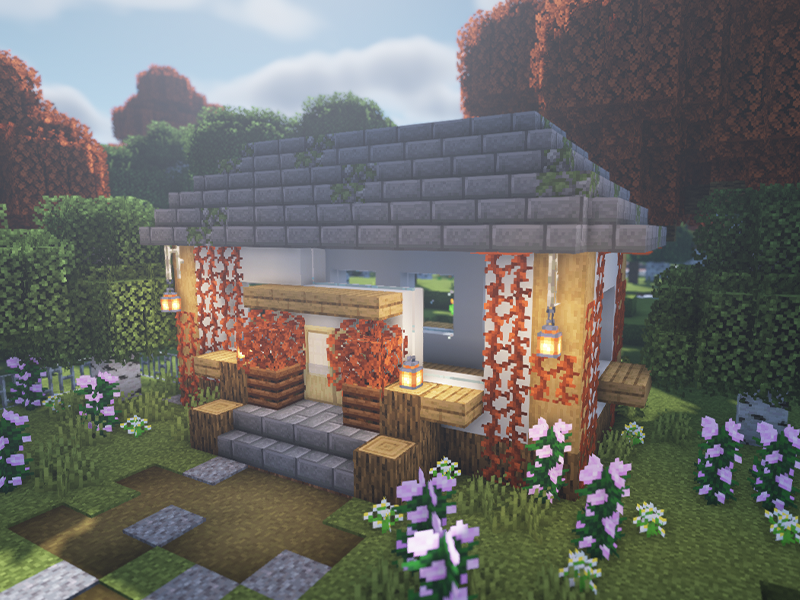 Tutorial by Chimichi
Biome: Forest, Plains
In terms of cottagecore starter houses, this build is as simple and basic as they come. Each block is easy to get early on in the game. It's even easy to switch out the wood or colors to whatever you want! This build is actually perfect for those who prefer modern architecture, but want to dip their toes into cottagecore in Minecraft.
Featured Blocks



14 – Underground Base and Treehouse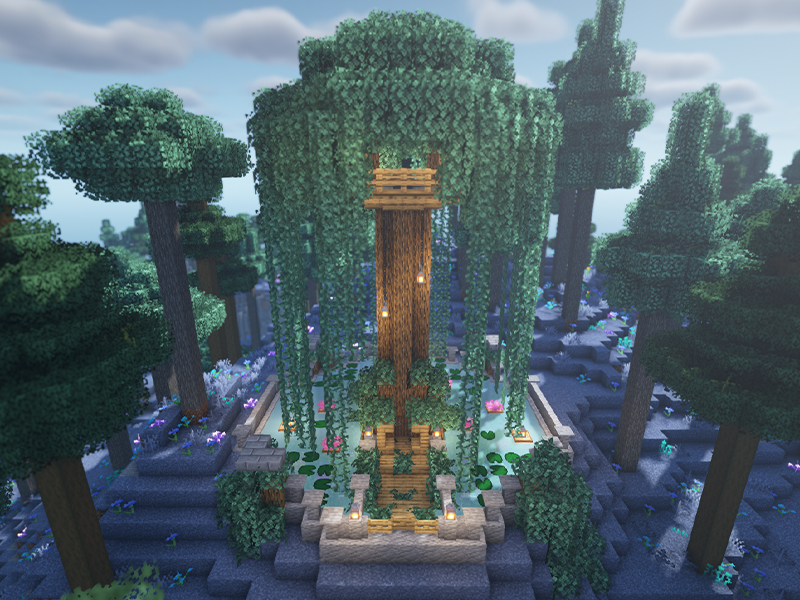 Tutorial by LubovLC
Biome: Forest
Those looking for a challenge starter base should give this a try. Not only is it a treehouse with room for crafting and sleeping, but there's an entire base underneath the lake and tree! There's plenty of room to enchant, sleep, smelt, and even go to the Nether! Just make sure to put a gate by the Nether portal, since too many zombified piglins were coming through while building.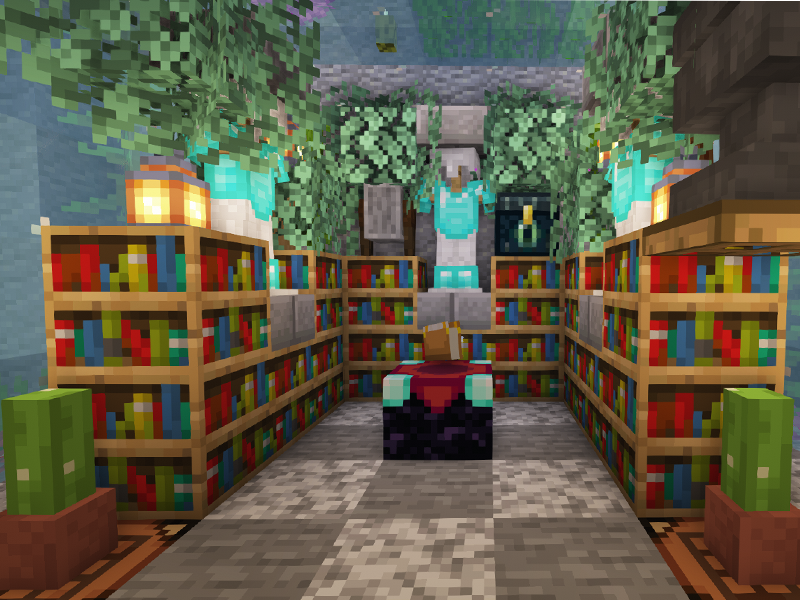 Featured Blocks



15 – Birchwood Cottage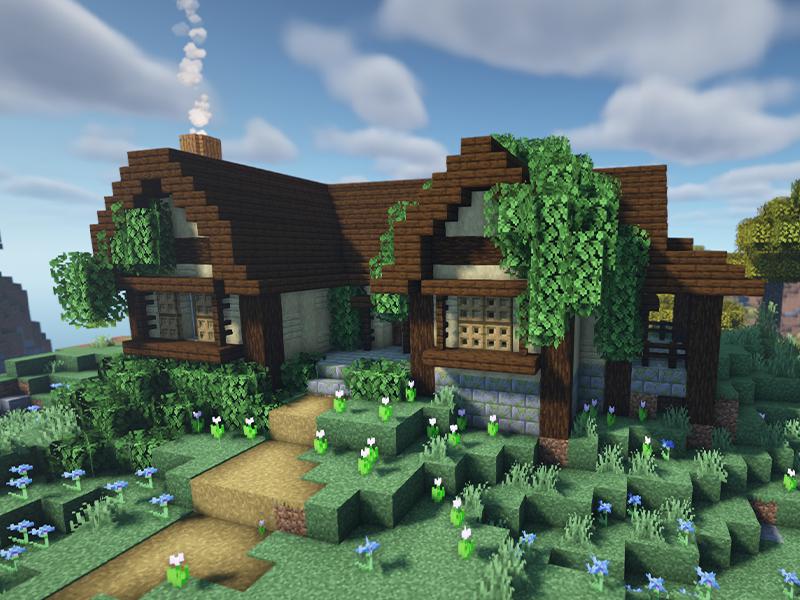 Tutorial by Jupitess
Biome: Any
This video is packed with leaves and cottagecore! Not only will you learn how to build a large, homey cottage, but you'll also learn how to make an entrance gate right out of a fairytale! This build is one of my favorites. Not just because of how many leaves I could place down, but because of how versatile the block palette can be. Don't like birch? You can just replace it with some white terracotta, and it'll still look like an overgrown cottage.
Featured Blocks



16 – Perfect Cottage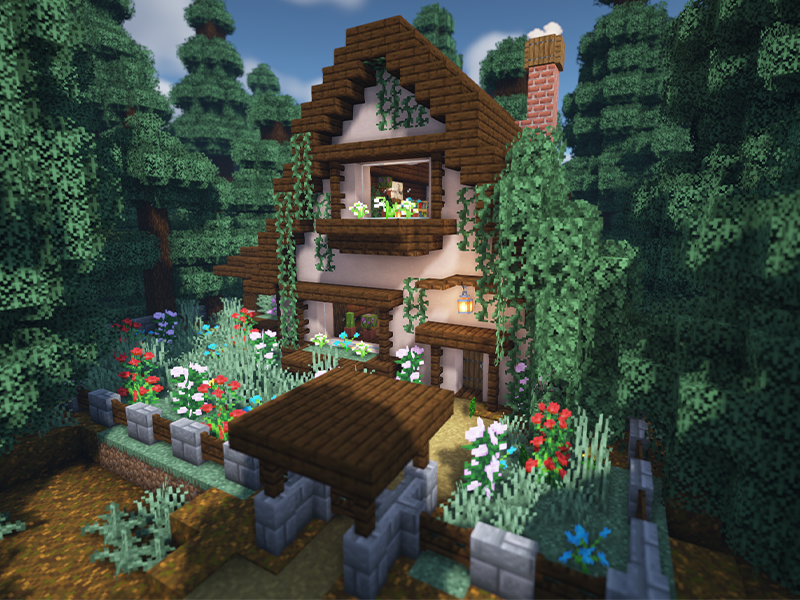 Tutorial by Tootsie
Biome: Dark or Spruce Forest
When you see "cottagecore" you immediately imagine a cottage looking much like this one! The vines and details are what turn this home into the perfect cozy cottage tucked away in the forest. It's a decently sized home that's easy to put together, no matter the skill.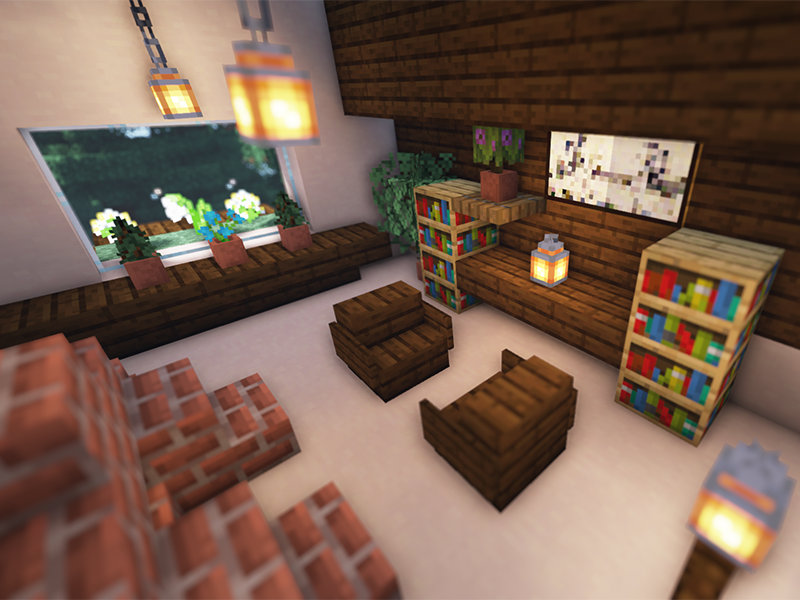 Featured Blocks




17 – Winter Cabin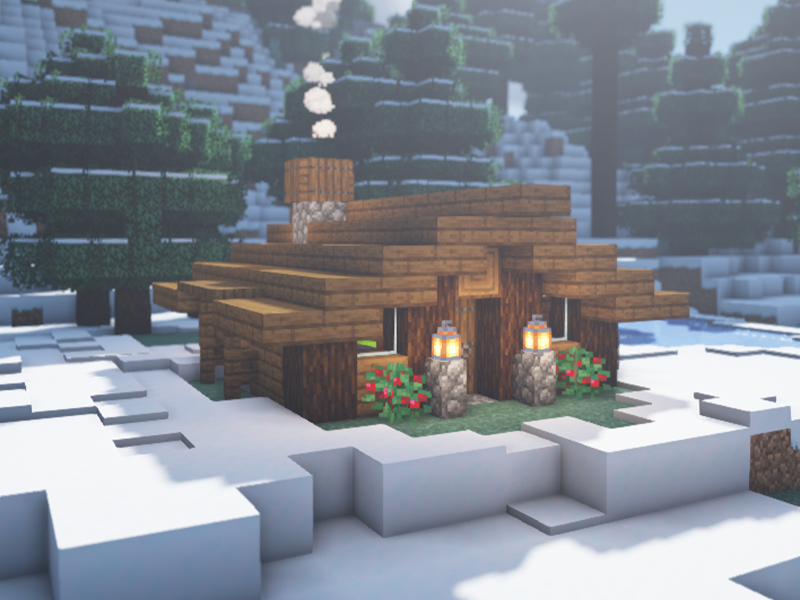 Tutorial by Balzy
Biome: Snowy
Whether you're risking the treacherous snowy peaks or just want a small cabin to retreat to, this winter cabin is simplistically cozy. With plenty of windows to view the landscape and a small chimney, this home is meant to be loved forever. Be careful of the front sweet berries, however, and make sure to stay safe while skating on the frozen pond.
Featured Blocks



18 – Fairy House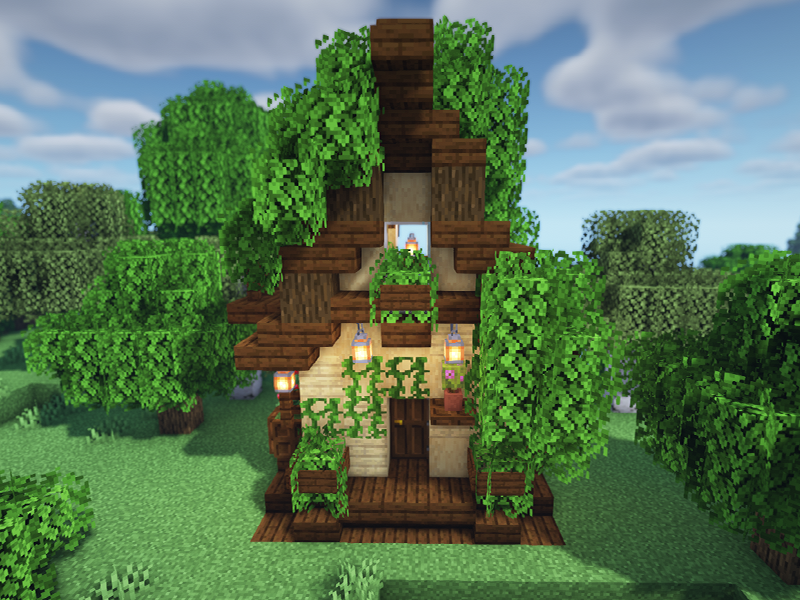 Tutorial by LubovLC
Biome: Forest
I'd consider this to be a fairy-lite house. It's enough of a fantastical design that you can still build more traditional style buildings around it. It's very simple to build and perfectly sized for fairy activities!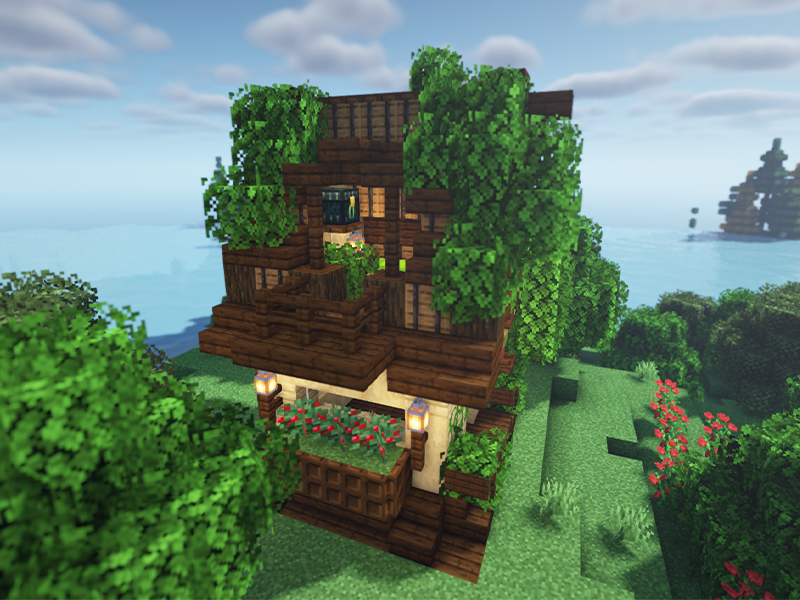 Featured Blocks



19 – Hobbit Hole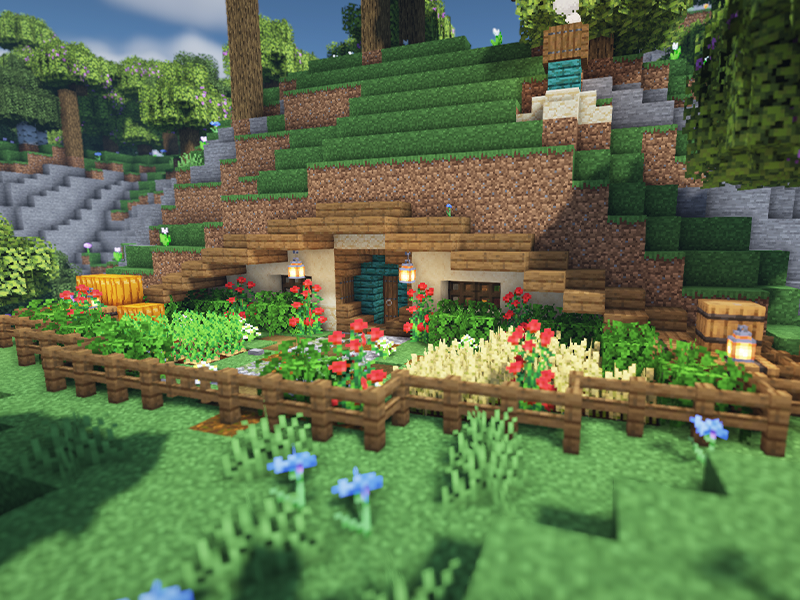 Tutorial by Zaypixel
Biome: Any with a hill
What's more cottagecore than a hobbit hole?! Perhaps nothing at all. Bringing classic Lord of the Rings architecture into Minecraft, this tutorial helps you create your hole-in-the-hill dreams come true. Who knew how simple making a hobbit home could be! It's also a build that can grow with you as you gain more blocks, expand your enchantments, and more!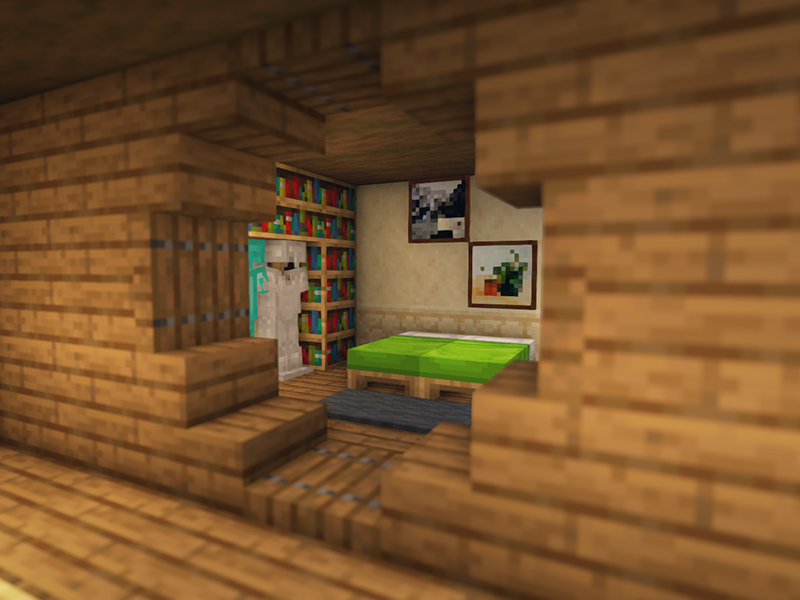 Featured Blocks


20 – Yellow Flower Forest Cottage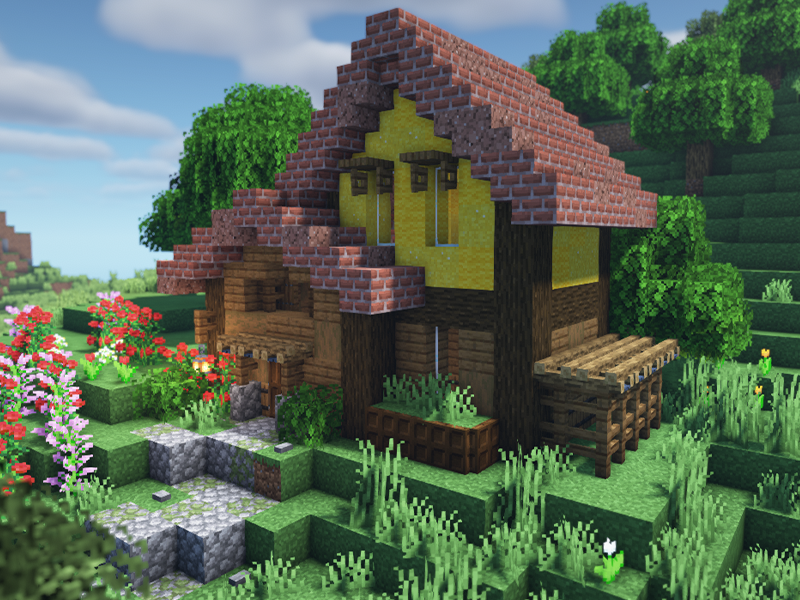 Tutorial by BigTonyMC
Biome: Flower Forest
What better way to blend into the flower forest landscape than with a pop of color? This build takes you step-by-step into building a colorful and cozy cottage surrounded by a picturesque landscape.
Featured Blocks



21 – Rustic Home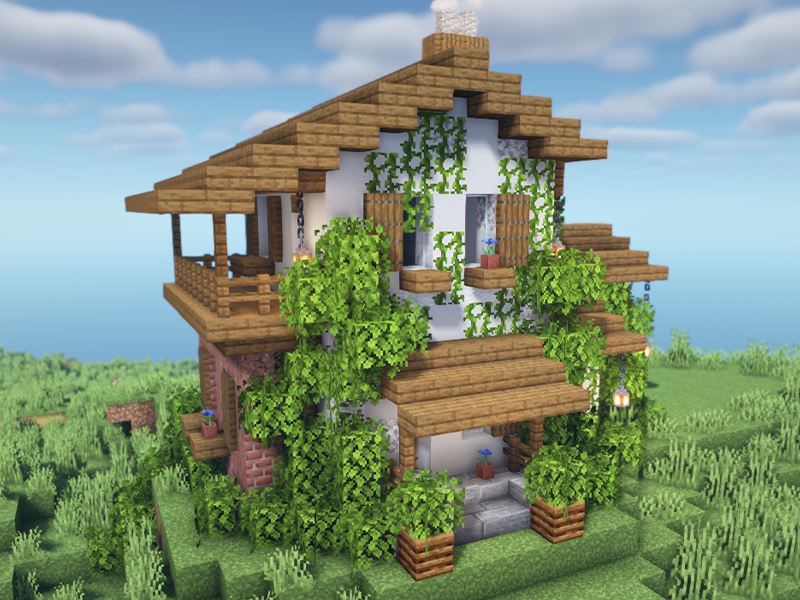 Tutorial by Diplex Mantis Gaming
Biome: Plains, Forest
This house showcases the classic cottagecore style of mixing bright blocks with vines and leaves. At first, the combination of so many blocks may seem like a bad design choice, but all together it forms a beautiful picture. We built this house right next to a village to show those villagers what true architecture genius looks like.
Featured Blocks



22 – Dark Forest Starter Cottage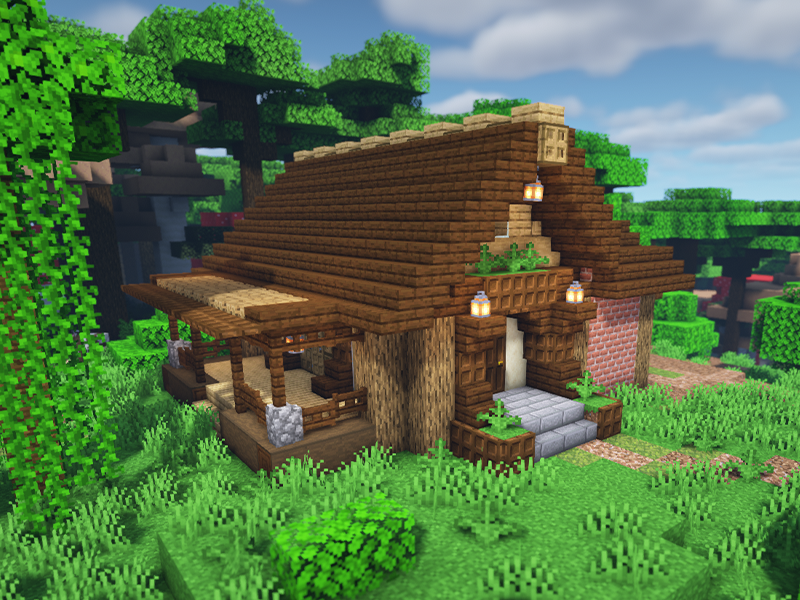 Tutorial by LennyRandom
Biome: Dark Forest
Dark forests may be hard to survive in (with all the mobs spawning), but this home will make it a little more liveable! While the tutorial itself only guides through building the exterior, the creator does go through a tour of the house and its surrounding area.
Featured Blocks




23 – Fairy Fantasy House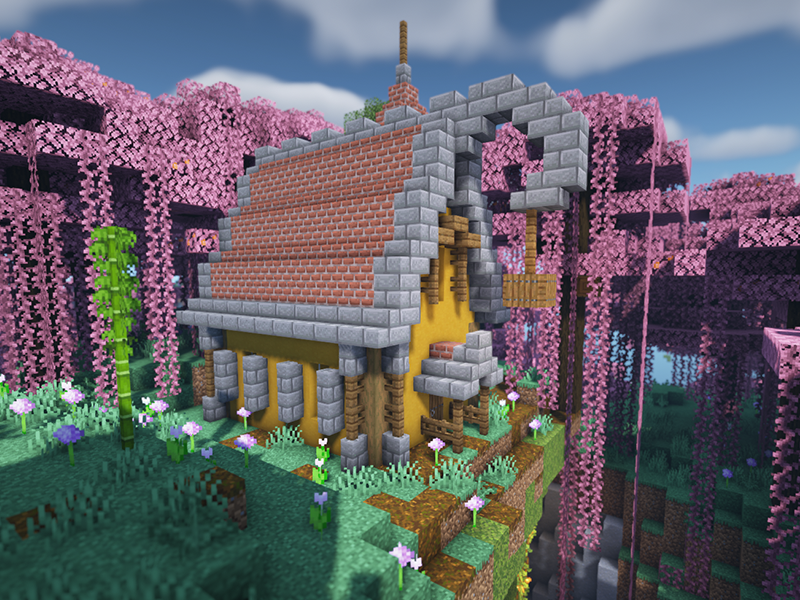 Tutorial by Lex The Builder
Biome: Any
Live out your fairy dreams in this fantasy inspired home! Whether tucked away in a forest or alongside a farm in the plains, this home is made of blocks easily attainable early on. So there's no need to worry about sacrificing your magical needs by gathering later game materials.
Featured Blocks



24 – Fairycore Starter House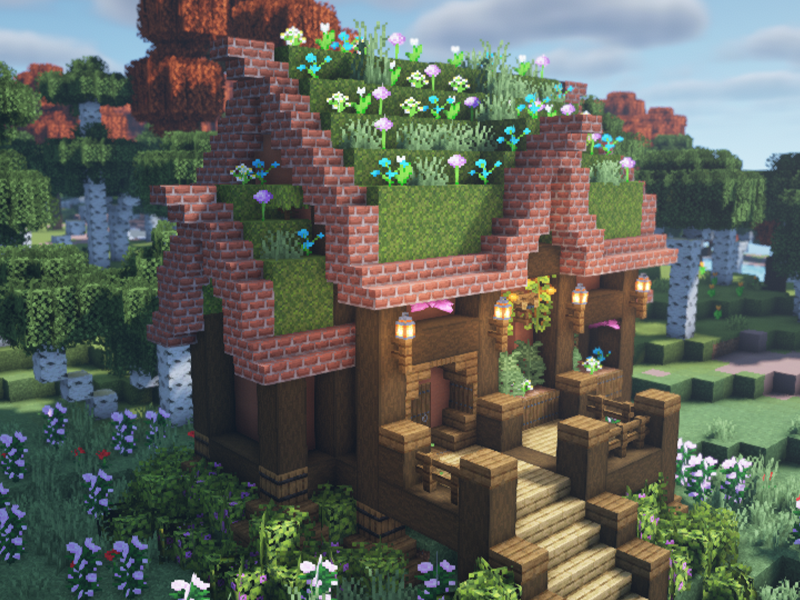 Tutorial by sillyblocks
Biome: Any
Any good fairycore or fantasy build can only be improved with a grass roof. This build combines many design elements of other builds on this list. The rounded doorway, natural roof, and wooden frame, all mix together to create a perfect fantasy home for any early game player.
Featured Blocks



25 – Mushroom House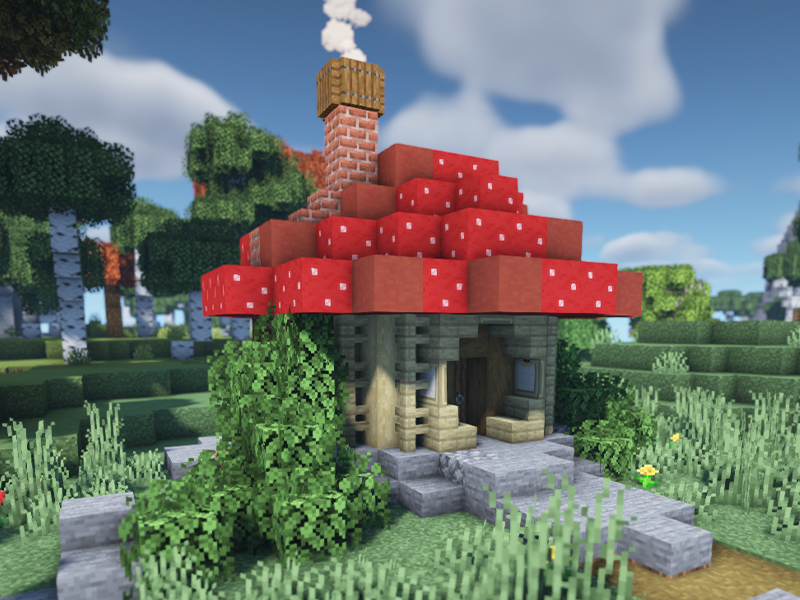 Tutorial by LennyRandom
Biome: Any
It doesn't take a rocket scientist to build a mushroom in Minecraft! This tiny home is perfect as a starter house, but it can also serve as a home for other mobs in Minecraft as well! Imagine a whole mushroom town filled with villagers to trade with!
Featured Blocks



All houses were built in a 1.18.1 world using BSL Shaders, Motschen's Better Leaves, and Terralith 2.0.