How to Log in to a TP-Link Router September 19, 2023
3 minutes
What you'll need
Interests
Series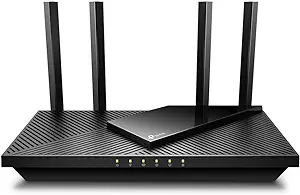 TP-Link router
x 1
Posted in these interests: If you're a TP-Link customer, you need to access your router. This guide covers everything you need from first time access to forgotten passwords. I'll walk you through how to log in to your router and set up a custom password.
1 – Connect to your TP-Link network
First you'll need to connect to your TP-Link network. You can connect using Wifi or an Ethernet cable. It's okay if you don't have internet access.
2 – Connect to the router using a browser window
To access the router login screen, open a browser and connect using one of these three URLs. Try each of them to see which one brings up the login screen for you.
http://192.168.1.1
http://192.168.0.1
http://tplinkwifi.net
3 – Log in to the TP-Link router
Enter your username and password on the login screen. If this is your first time, you will need to use the default credentials:
username: admin
password: admin
4 – Change the router password
Once you're logged into the router, you can change the admin password under Management > Access Control > Password.
Congratulations! You're logged in and ready to go.