How to Make Whiskey Simple Syrup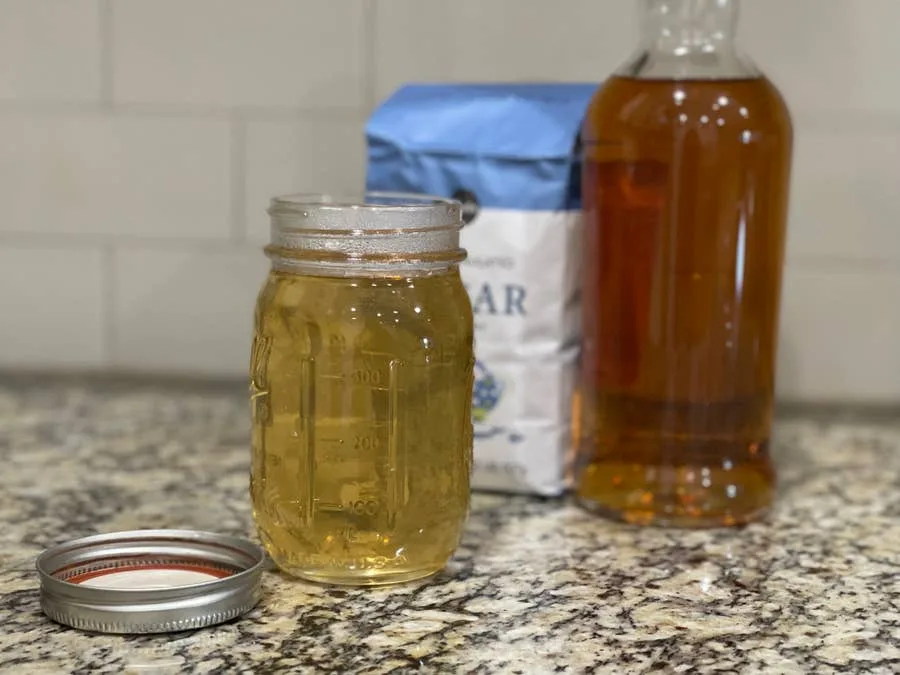 No whisk, no reward.
November 20, 2023
11 minutes
What you'll need
Interests
When I was first offered a beverage flavored with whiskey simple syrup, I was in a coffee shop in San Jose, California. I wasn't even really interested in drinking coffee. It was later in the day; I was already feeling a little tired; I figured coffee was the last thing I needed.

But when the barista mentioned their homemade simple syrup made from whiskey, I knew I had to try it.

I couldn't resist, and it was amazing. It gave the coffee a warm, nutty, caramelly flavor that was distinctly whiskey without the burn of the alcohol. It tasted, in many ways, like a better version of whiskey, and it was the perfect addition to coffee.

Of course, they wouldn't impart with their homemade recipe (who could blame them), but I had to recreate it. It was too good not to.

Unlike several of the simple syrup recipes we've featured lately, like our Cherry Simple Syrup or our Rose Simple Syrup recipes, this whiskey simple syrup doesn't require any extra steps other than boiling and storing.

Here's possibly the easiest whiskey simple syrup recipe you'll ever find.
1 – Buy whiskey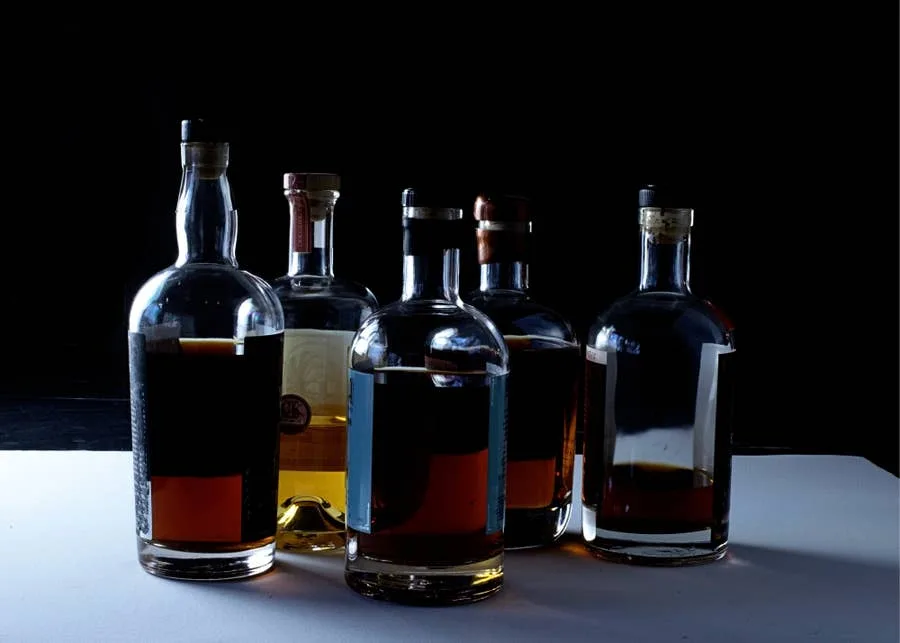 When it comes to selecting a whiskey to use, it really boils down to personal preference.
If you have a favorite whiskey or a bottle that you've been sampling, feel free to tap into whatever is in your bar! Since you only need 1/4 cup, you won't diminish your reserves too much.
If you already have the whiskey, you're going to us, skip to the 2nd step for the recipe. Otherwise, here are a few whiskey options and their flavor profiles!
How to pick a whiskey
For starters, you can use scotch or whiskey.
Whiskey is a liquor made from fermenting grain mash (such as wheat, rye, barley, or corn), while scotch is whiskey made in Scotland from barley or a mix of grains.
Scotch has a smokey, malty flavor. Whiskey, on the other hand, finishes with sweet, nutty, caramel-y notes.
While you're going to be cooking the whiskey down and adding sugar to it, different whiskeys will offer distinct flavors, which provides a great level of customization.
If you're not a whiskey connoisseur, don't worry. You don't have to be to make this simple syrup recipe. We've included a list of popular whiskeys with some of the different flavors they offer. Here's a fun fact: you can even use bourbon!
10 Popular Whiskeys and their flavor
| Whiskey | Flavor |
| --- | --- |
| 1. Jack Daniels | Fruity sweetness, vanilla custard, oak, and banana. |
| 2. Ardbeg | Smoky fruit, peat, hints of citrus. |
| 3. Maker's Mark | Chocolate, vanilla, hazelnut, and tobacco. |
| 4. Dewar's White | Vanilla, oak, and a hint of spice. |
| 5. Johnnie Walker Black | Smoky, complex, and slightly salty. |
| 6. Monkey Shoulder | Sweet vanilla, brown sugar, and creamy toffee. |
| 7. Crown Royal | Sugarcane, caramel, oak, toffee |
| 8. Jameson | Semi-sweet caramel, grain, smoke |
| 9. Gentleman Jack | Honey, nut, oak, leather, tobacco, and coffee. |
| 10. Eagle Rare Single | Woody, dark toffee, nutty, with hints of vanilla and spearmint. |
Don't be afraid to experiment with your whiskey choices! Now that you have a whiskey picked out, you're ready for the simple syrup recipe.
Please note: The alcohol burns off during the cooking process, leaving behind a rich syrup that will taste like a sweeter version of your whiskey. You won't be consuming alcohol.
2 – Measure your whiskey, sugar, and water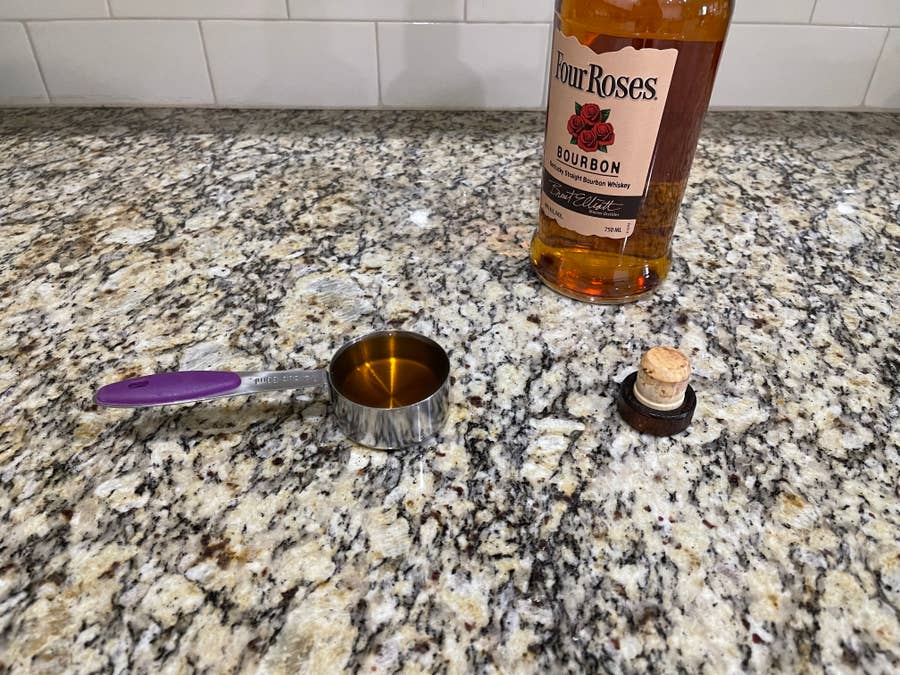 Measure 1 cup of sugar and pour it into your pot.
Measure 1 cup of water and pour it into your pot.
Measure 1/4 cup of whiskey and pour it into your pot. Take a small sip for, you know, courage.
As you can see, I'm using what I had on hand: bourbon.
Fun fact!
While bourbon is technically a type of whiskey in that it's a mixture of grains that have been fermented and aged, bourbon is classified as such because it is made from, at least, 51% corn!
3 – Heat your ingredients in your sauce pot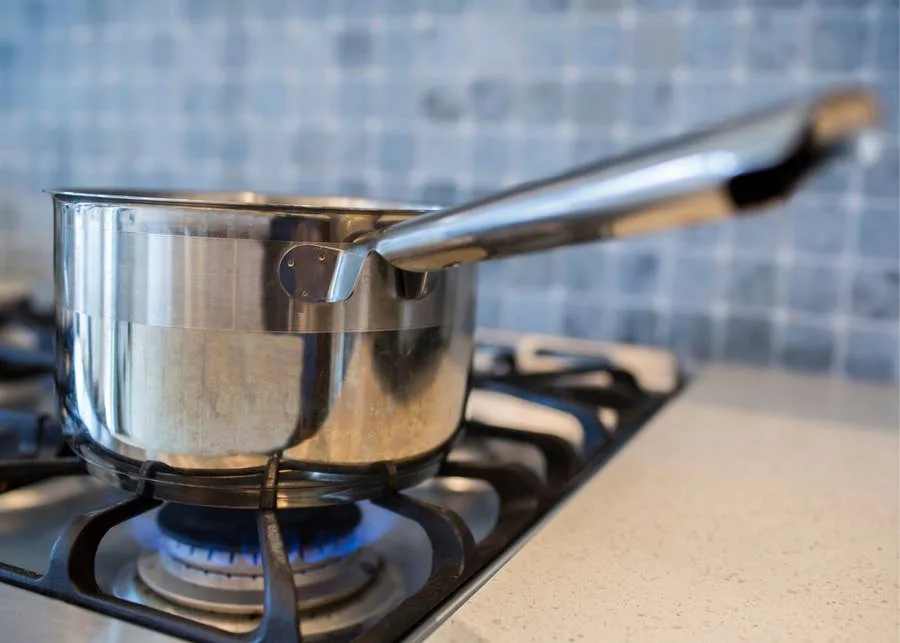 Place your sugar-whiskey water on your favorite stove burner and heat over medium-high. Give your mixture a good stir to encourage the sugar to break up.
Bring your syrup to a simmer and heat until your sugar has dissolved. Your whiskey simple syrup will be thick and a light shade of brown. Turn off your stove and remove your pot from heat.
4 – Allow your syrup to cool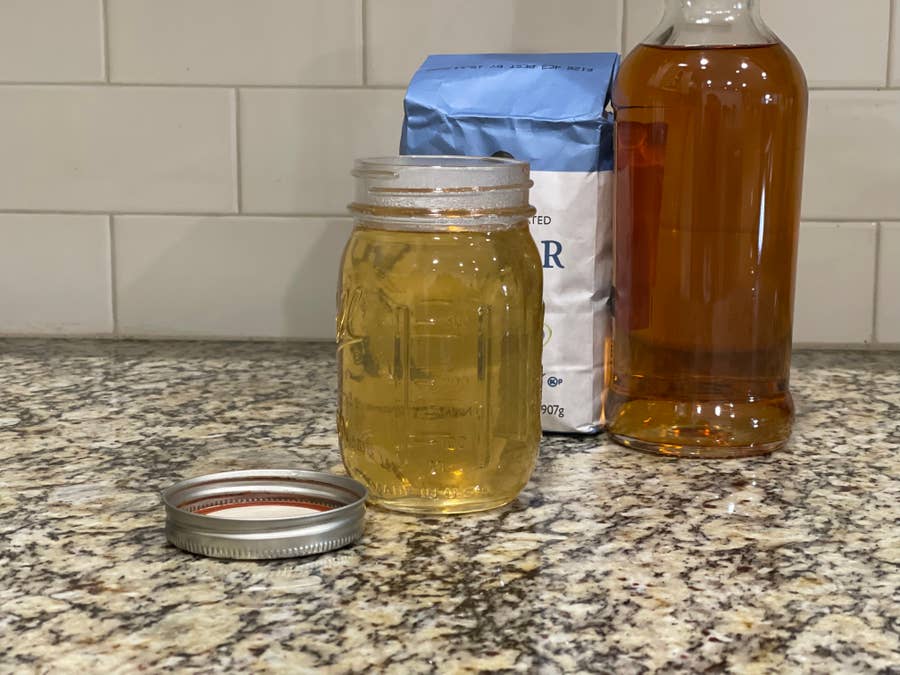 Allow your simple syrup to cool for 10 minutes before transferring it to an airtight container like a mason jar. Your syrup will keep in the fridge for a few months!
If you're impatient like me, you can transfer your syrup from your pot to your mason jar and let it cool there with the lid off.
Pro tip: If you've tuned into other simple syrup recipes, you'll know that I'm a big fan of cleaning the pot right after transferring it to the mason jar.
Sugar that has had the opportunity to crystalize against the pan's surface is much harder to remove.
Pro tip no. 2: Looking for more inspiration on how to use your simple syrup? Add a little bit to your morning coffee or brush a little bit on top of a freshly baked batch of muffins!