How To Import Questions Into Google Forms With an Add-On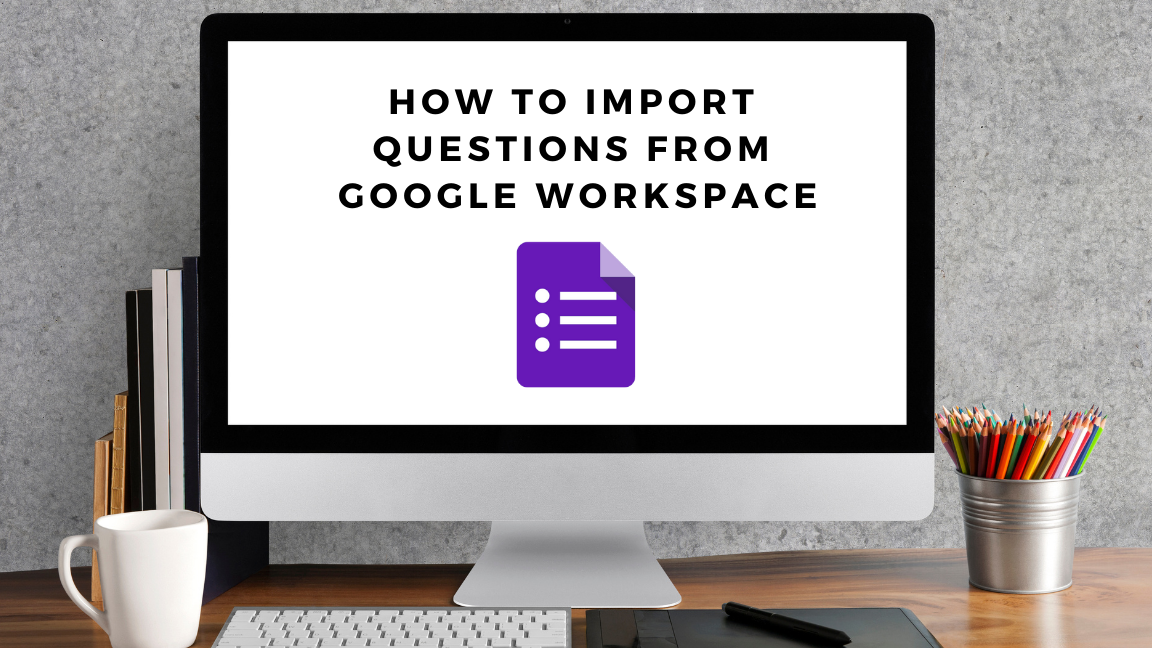 Import questions from Google Sheets, Slides, and Docs!
September 12, 2023
6 minutes
What you'll need
Interests

Google Workspace
x 1
Howchoo is reader-supported. As an Amazon Associate, we may earn a small affiliate commission at no cost to you when you buy through our links.
Posted in these interests: Google Forms is a tool that has a variety of uses. Whether you need to gather customer feedback, proctor an exam, or enable users to submit a help ticket, Google Forms provides a way to gather information easily.
Most likely, you already have questions listed out in a document or spreadsheet. Instead of copy and pasting between a form and document, the steps below will show how to use an add-on to import questions from Google Slides, Sheets, or Docs.
This method does require you to install a third-party add-on. If you need help installing an add-on to Google Forms, check out our guide here!
1 – Install Form Builder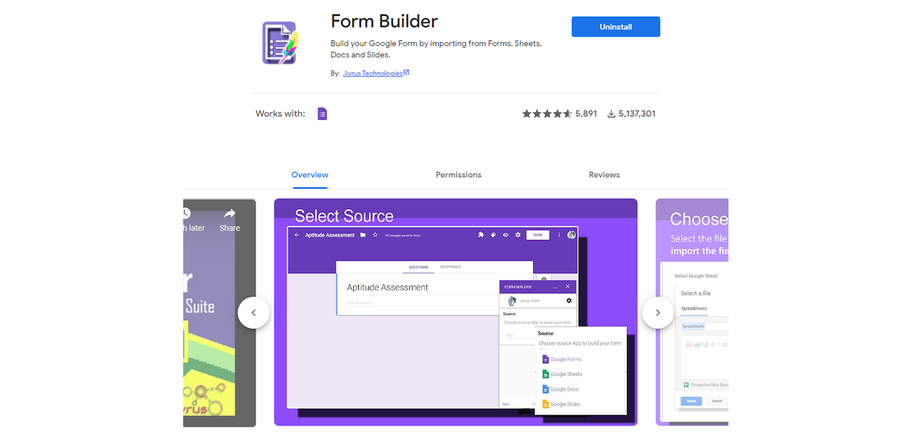 Using the Form Builder add-on, you can import questions from Google Sheets, Docs, or Slides. Form Builder supports importing questions, questions with answers, and quiz into Google Forms. You can even set a column to mark questions as required!
2 – Open Form Builder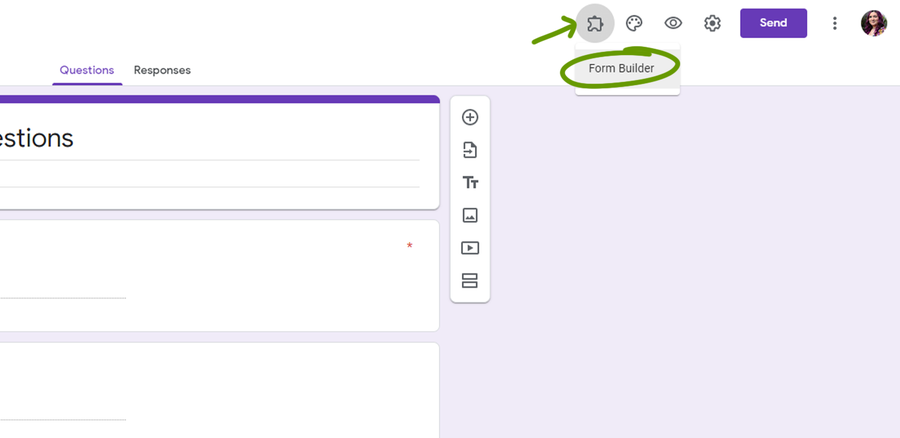 When you're ready to import, click the Add-on button shown in the image above and select Form Builder. A pop-up window will appear, hit Start to begin the importing process.
If you don't see the Add-on menu, simply refresh your page.
3 – Choose import location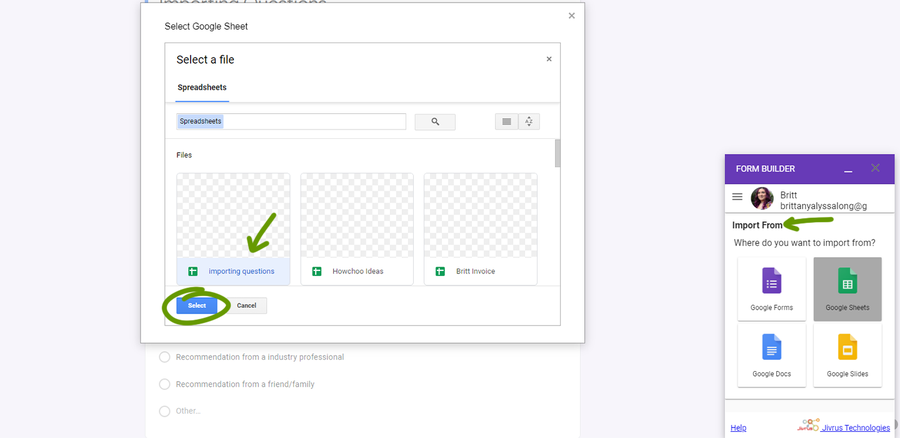 Now is the time to choose where you want to import questions from using the Form Builder window. In this example, we're importing from a Google Sheet, however you can import from Docs, Slides, or Forms. Make sure to hit the Select button in the window before moving on.
4 – Choose questions to import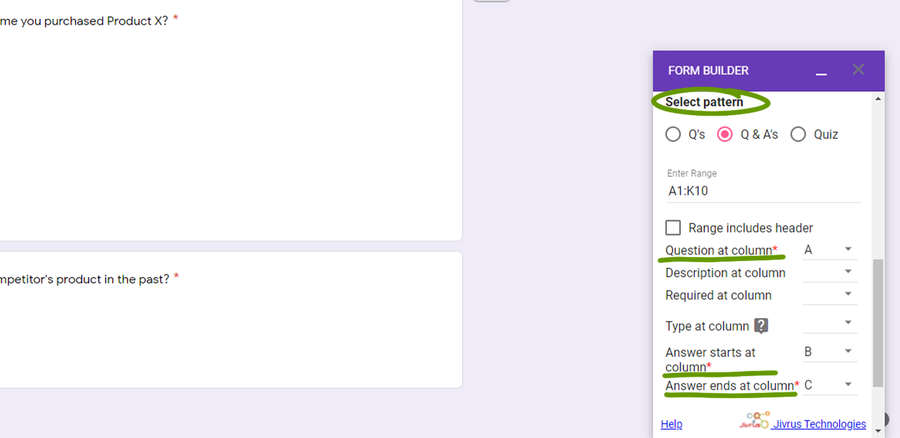 Select the format or pattern of the questions:
Q's: Only the questions will be imported.
Q & A's: Questions will be imported with answers
Quiz: Questions will be imported with correct answers and points
Choose the correct formatting for your imported questions. In this case, we've indicated that column A hold the question, while the answers range from column B to C.
5 – Choose the correct question type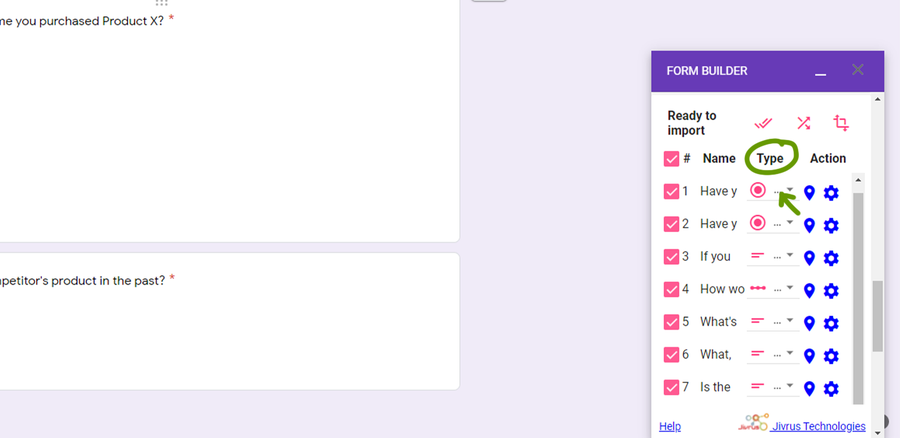 The final step before importing is to make sure the add-on has chosen the correct question type. By hovering over the question name, you'll be able to see the full question.
Use the drop-down menu in the Type column to choose the correct question type. When ready, move on to the next step.
6 – Import questions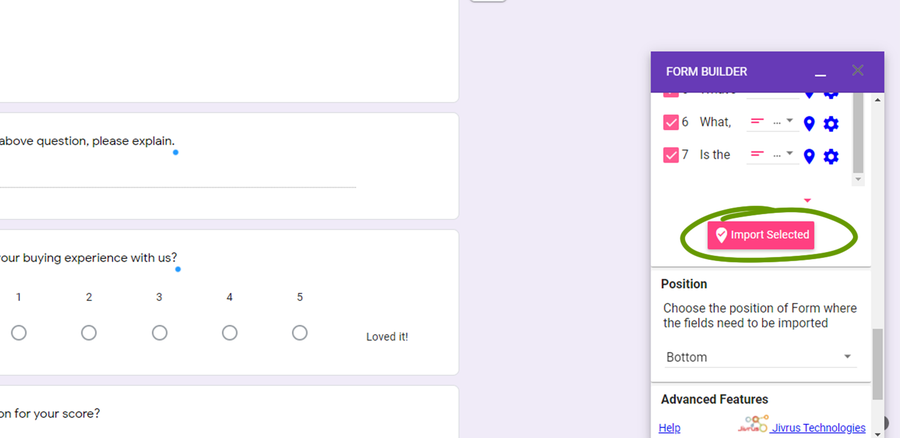 Before you import, look over your questions to be imported and make sure you've grabbed the correct information.
When ready, click the Import Selected button and questions will now be imported into your Google Form!
There you have it: two easy ways to import questions into Google Forms! As we stated before, anything is possible with Google Forms. If you're interested in more add-ons for Google Forms, check out our list here!