Switching from Console to PC Gaming: A Comprehensive Beginner's Guide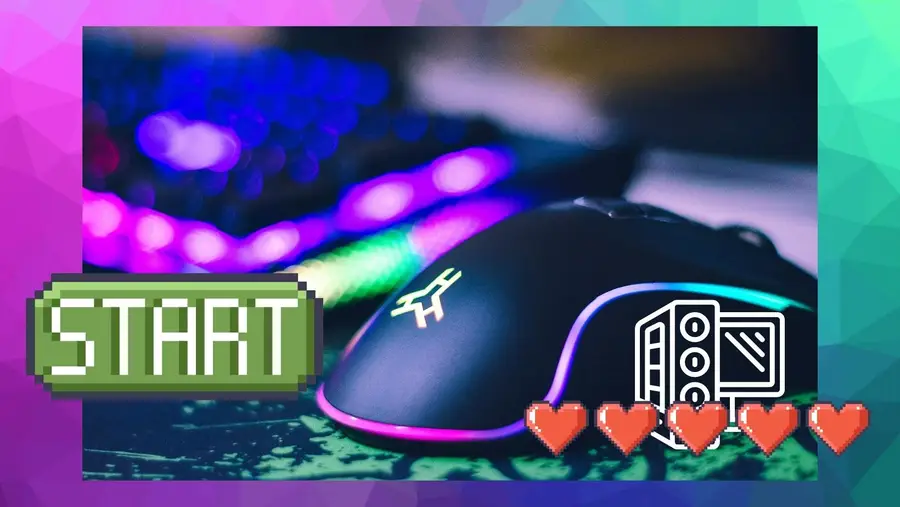 From PC systems to keyboards, I'll walk you through choosing your first gaming rig.
August 22, 2023
37 minutes
What you'll need
Interests
Posted in these interests: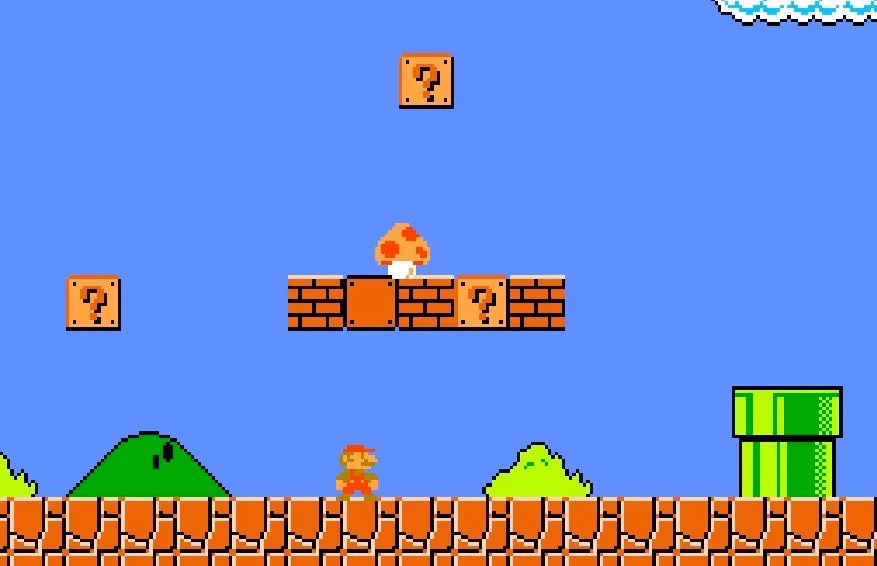 Let's face it: PC gaming is a lot more complex than console gaming. Console gaming is simple because you only have to worry about one device – your console.
With PC gaming, you have more to consider, from build customizations to gaming brands to accessories and more. But the complexities come with more options, more games available to you, and a more personalized gaming experience.
So, if you're a console gamer, how do you make the switch to PC gaming? How does PC gaming compare to console gaming? And, perhaps most importantly, how do you make intelligent decisions while buying your first gaming PC?
How I made the switch myself
As a life-long PlayStation gamer, I had zero knowledge about PCs and PC gaming until earlier this year. Then, I decided to start saving money to switch from my console to PC gaming myself. While I pinched my pennies, I learned everything I could about making the switch and making it intelligently.
I broke down my journey into these categories:
PC gaming vs. console gaming
Laptops vs. desktops vs. custom builds
Gaming brands
Learning what PC specs mean
Picking your gaming accessories
Download Steam and start gaming
Let's get started with understanding the difference between consoles and PCs. If you already know the basics and want to dive right into switching from console to PC gaming, skip to step 1.
PC gaming vs. console gaming: Understanding the differences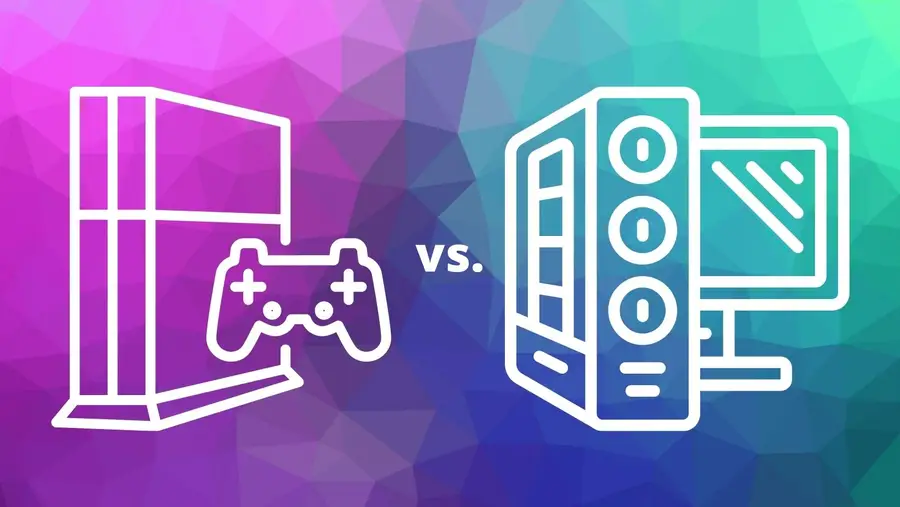 Breaking down the main difference between a PC and a console is simple: PCs are more powerful and come with more variety and personalization than consoles.
And I'm not knocking console systems, either. There are pros and cons to any gaming system, PC, console, or otherwise, and understanding the differences will help you determine whether you want to commit to making the switch or not.
Let's start with the pros and cons of both options.
PC Pros and Cons
| Pros | Cons |
| --- | --- |
| Bigger library | More expensive |
| Frequent gaming sales | Complex |
| Better backwards compatibility | Comfort (think gaming on a couch vs. gaming in a gaming chair) |
| Easier game mods | |
| Build customization | |
| Fewer hidden costs | |
| Gaming laptops are portable | |
| Game demos | |
Console Pros and Cons
| Pros | Cons |
| --- | --- |
| Less expensive upfront cost | More hidden costs |
| Smaller game library | Not portable |
| Console specific games | Limited backwards compatibility |
| Easy to get started | Limited access to mods |
| Comfort (think gaming on a couch vs. gaming in a gaming chair) | Limited customization |
The hidden cost of console gaming
On average, console gamers spend more on hidden fees than PC gamers, with programs such as PlayStation Plus, Xbox Live Gold, and Nintendo Switch Online requiring subscription fees.
PCs might be more expensive upfront, but you gain free access to these programs.
More online game platforms
As a PC gamer, you also have easier access to online game platforms like Steam, Microsoft Store, Epic Games Store, Origin, and more. These stores feature frequent sales, game demos, and a large selection of indie games.
More customization
One of the biggest pros to PC gaming, aside from portability and sheer gaming power is the opportunity to customize your gaming experience with the variety of choices available to you from laptops, premade desktops, and custom PC builds.
This brings us to the first actual step of our learning how to move from console to PC gaming: Choosing between laptops, desktops, and custom builds.
From Console to PC Gaming Step 1: Choosing between laptops, desktops, and custom builds.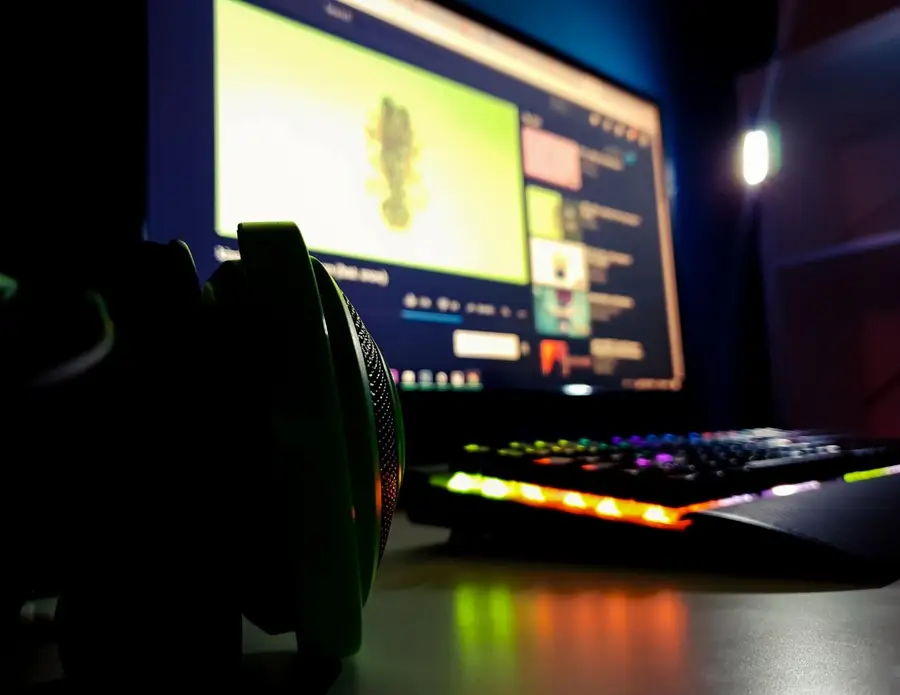 One of the most intimidating factors about switching from console gaming to PC gaming is the number of options available to you through PC gaming.
There are three PC categories: laptops, desktops, and custom builds.
Laptops vs. desktops vs. custom builds
| Build type | Pros | Cons |
| --- | --- | --- |
| Laptops | Portable, space-saving, RAM and storage upgradable, and you can start gaming immediately. | Not easily customizable, lower performance, limited cooling system, you're stuck with the given number of memory slots, and high-end laptops are more expensive than desktops. |
| Desktops | Higher performance, upgradable, high memory, ample storage, easy-to-find repair parts, and less expensive than high-end laptops. | Consumes more power, is not portable, can take up a lot of space, and you need to purchase the monitor, keyboard, and mouse separately. |
| Custom builds | Completely customizable, less markup on high-end computer components, individual components often come with warranties, and you can potentially save money on repairs.* | It takes time, there's a significant learning curve, and finding the right how-to guide can be tricky. |
On saving money on repairs*: This potential to save money is based on the knowledge you'll gain as you build your PC. As parts break or you want to upgrade, you won't have to worry about taking it back to the manufacturer because you're the manufacturer!
At a glance, the pro/con chart above points to custom builds as having the lowest con to pro ratio, but with no prior knowledge, you run the risk of putting together the parts incorrectly, negating warranties, and damaging your build overall.
For the sake of this beginner's guide, we'll focus on laptops and desktops, but if you're interested in learning how to build a gaming PC, check out Tom's Guide: How to build a gaming PC for beginners.
How I made my decision
I opted for a gaming laptop for the following three reasons: I would potentially be traveling with my laptop, so I wanted something portable. Second, I wanted to take advantage of upcoming Steam sales, so I knew I wanted to set up my gaming system quickly. * Finally, my budget wasn't large enough to handle buying a system, monitor, keyboard, and mouse all at once.
Once you've decided which system is the right one for you, you're ready to choose your brand.
Step 2: Choose your PC brand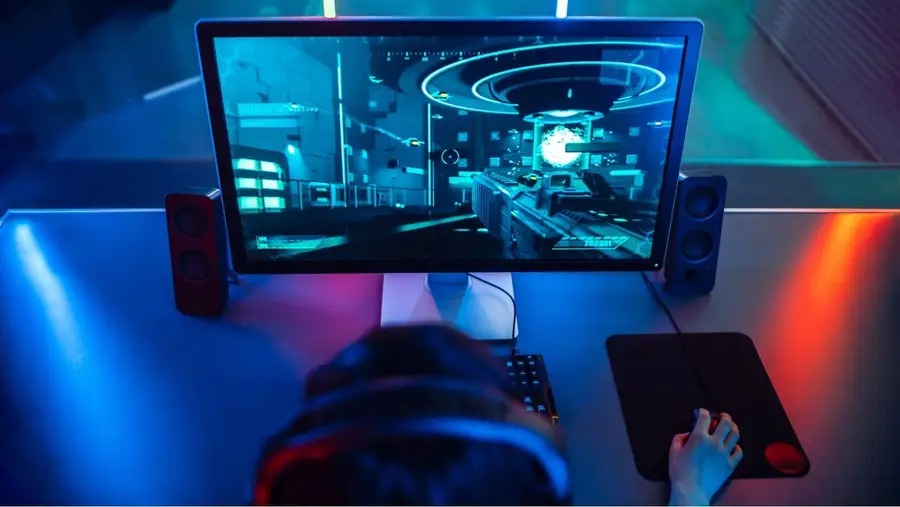 While the PC gaming system market is large, a few names dominate in performance and quality. Here are a few brands to keep an eye on as you start your PC system research.
Omen
Originally called Voodoo PC until it was acquired by HP in 2006, Omen produces PCs with outstanding performance by leveraging the technology and expertise of HP.
What Omen PCs are known for
Omen is known for creating gaming PCs that age beautifully. When system updates roll out and next-gen PCs are released, your current setup will still work perfectly.
Corsair
Since its humble beginnings in 1994, Corsair has grown to produce a wide variety of high-quality gaming products from headsets to keyboards and everything in between.
What Corsair PCs are known for
Corsair is known for making powerful PCs that are quiet and compact. They've mastered the art of creating a compact machine that doesn't sacrifice speed and reliability.
Republic of Gamers
Republic of Gamers, or ROG, is the gaming branch of ASUS, the company known for creating some of the best motherboards, graphics cards, and monitors in the market.
What ROG PCs are known for
ROG produces some of the most powerful gaming laptops available, with unique cooling solutions that elevate their machine's performances.
Alienware
Alienware is the gaming subsidiary of Dell, and their desktops are built with gaming purists and eSport competitors in mind. They feature powerful processors and extremely high refresh rates. ###### What Alienware PCs are known for While Alienware PCs are known for their powerful performances, they're also known for creating visually pleasing and unique machines.
Intel
Intel is known for producing affordable office or work computers, but the company has recently branched out to create a number of high-quality gaming PCs.
What Intel PCs are known for
Intel PCs are known for being beginner-friendly in that their specs aren't overpowered, which allows you to learn what sort of gaming you want to do before you invest in PCs with more powerful specs.
How I made my decision
When I initially started my research into gaming PCs, I reached out to my brother, a long-time PC gamer.
He pointed me in the direction of ASUS ROG, a brand he's trusted for his own gaming needs for years. After reading several reviews, I priced out a few machines and was sold. An ASUS ROG gaming laptop would be my first gaming PC.
Choosing your brand: The main takeaway
At the end of the day, choosing your brand means researching the brand, the specific system you're interested in (desktop, laptop, or custom), and reading reviews from other gamers.
As I started looking at different machines, I found myself drawn to the ASUS TUF Dash 15 Ultra Slim Gaming Laptop, but I realized I had a problem: I had no clue what the specs meant.
Step 3: Learn what the PC specs mean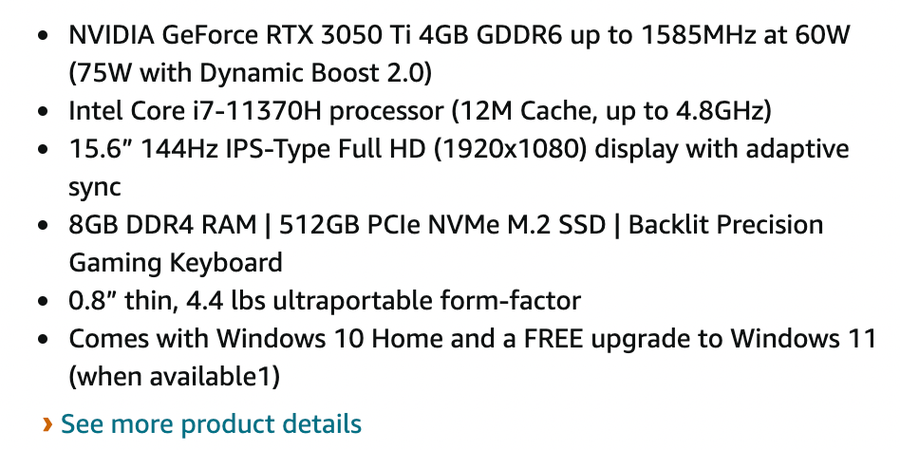 When you look at a listing for a PC, it's never written as Gaming Laptop – $1000.
They're written with different pieces of information that give the potential buyer a brief overview of the PC. They're valuable but confusing if you don't know what they mean.
For example, the laptop I was interested in, ASUS TUF Dash 15 Ultra Slim Gaming Laptop, featured specs longer than the actual title of the PC.
While you don't need to become an expert in computer sciences, understanding the basics will help you in the following ways: 1. You'll know exactly what kind of machine you're getting. 2. You'll know what you're spending your money on. 3. You'll know what to look for while shopping around.
Here's a PC specs for beginners breakdown.
What PC specs mean
Common acryonyms
| Acryonym | Meaning | Purpose |
| --- | --- | --- |
| CPU | Central Processing Unit (or processor) | The brain behind your computer |
| GPU | Graphics Processing Unit (or graphics card) | Renders the visuals of your game |
| RAM | Random Access Memory | Stores and accesses memory quickly |
| FPS | Frames Per Second | Describes how smoothly a game can run |
| Hz | Hertz | Your screen refresh rate |
| HDD and SSD | HDD (Hard Disk Drive) and SSD (Solid State Drive) | Stores digital content |
| HD | High Definition | Screen resolution a 720p |
| FHD | Full High Definition | Better screen resolution than HD at 1080p |
| GB | Gigabyte | Unit of data storage capacity that is worth around 1 billion bytes |
| TB | Terabyte | Unit of data storage capacity that is worth around 1 thousand GB |
Computer components and how they affect your PC
CPU – Two companies manufacture most industry chips: Intel and AMD. The number of cores determines CPU power. The higher the core count, the more powerful the CPU, which means faster gaming for you.
GPU – GPUs render images, video, and animations while you're gaming. Ever had video game graphics lag? That's probably because your video game is a touch too powerful for your GPU.
RAM – RAM is measured in GB and creates a quick path to your PC's CPU, allowing you to quickly access a file or video game. The higher the GB, the more you can store for instant access.
FPS – FPS measures how many frames your PC produces. High FPS means smoother gaming.
Hz – High refresh rate (measured in Hz) results in more realistic motion for all moving parts of your game. Keeping in mind: The higher your refresh rate, the higher your FPS should be.
Motherboard – The unit that connects the individual electronics of your computer. In desktops and laptops, the motherboard is provided for you by the manufacturer, but if you're building a PC from scratch, you can choose your motherboard.
Operating system – Your operating system is the software that manages your computer's memory, process, and all of its software.
Storage – Storage is responsible for saving your gaming progress when you're offline. Storage is measured in GB and is broken down into two categories:
HDD: HDD is the older of these two storage options, and they have limited storage capabilities but are cheaper. Generally supports 1-2 TB.
SSD: Flash memory chips that are smaller and faster. Generally supports 2+ TB.
GB – The size of a game is often displayed in GB.
Understanding PC specs: The bottom line
While brands and manufacturers will use the information above to communicate the power of their PCs, you need to pay attention to everything listed in the PC description.
Feel free to look up anything you don't recognize. A quick Google search can shed a lot of light.
Next, we'll take a look at the ASUS TUF Dash 15 Ultra Slim Gaming Laptop specs.
Step 4: Apply your specs to your PC choice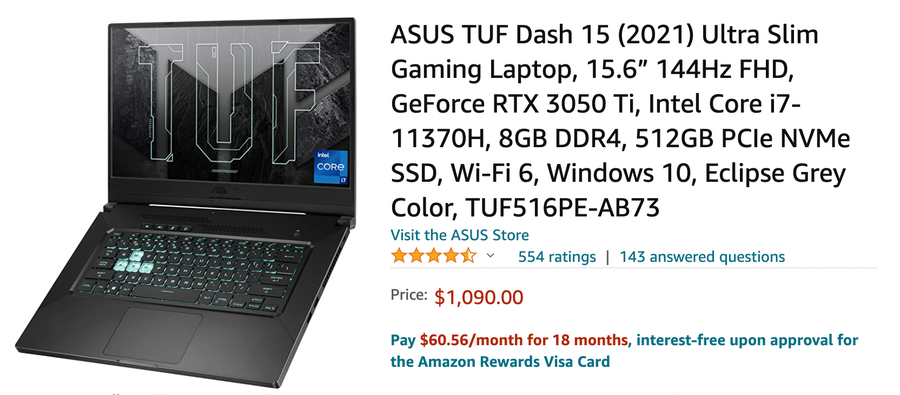 So, how does the information above translate when you're looking at actual specs? Let's take a look at the ASUS TUF Dash 15 Ultra Slim Gaming Laptop specs as an example.
Specs and performance
| TUF Dash 15 specs | Meaning | Performance |
| --- | --- | --- |
| 144Hz | Screen refresh rate | The display refreshes to show a new image (144 per second) |
| FHD | HD at 1080p | The display features Full High Definition |
| GeForce RTX 3050 Ti | The PC's GPU | A Nvidia GPU suited to FDH gaming |
| Intel Core i7-11370H | The PC's CPU | Basic CPU for portable laptops |
| 8GB DDR4 | 8 gigabytes of RAM | Standard performance RAM |
| 512GB PCle NVMe SSD | 512 gigabytes storage | Standard RAM for beginner PC gamers |
| Wi-Fi 6 | Wi-Fi connection | Next-generation Wi-Fi |
| Windows 10 | A Microsoft operating system that uses an Intel CPU | Released in 2019, it's the latest for Windows OS and is considered the best for gaming (until Windows 11 is released) |
| TUF516PE-AB73 | The ASUS ROG PC product code | An ultra-portable ASUS gaming PC |
As you can see from the above, PC specs don't have descriptions listed beside each part. For example, the Intel Core i7-11370H is the CPU because cores determine a CPU's power, but the description doesn't include much info about the CPU itself.
So, I conducted some research and found out the Intel Core i7-11370H isn't considered the best CPU for gaming PCs, but I was interested in the portability of the ASUS TUF Dash and the price of the machine. This brings me to my next point to keep in mind: your budget.
Always keep your budget in mind
While researching PCs, it's easy to get wrapped up in sales phrases like Our most powerful PC yet or Graphics as beautiful as real life.
These sound great at first (who doesn't want to use a PC that promises real-life beauty?), but keep this in mind: The more powerful the individual parts of a PC, the higher the price tag.
Write your budget down on a sticky note and have it next to you while you're perusing gaming PCs so you won't get sidetracked by lavish sales phrases. Staying within budget will help you determine how much you can spend on gaming extras.
Step 5: Choose your accessories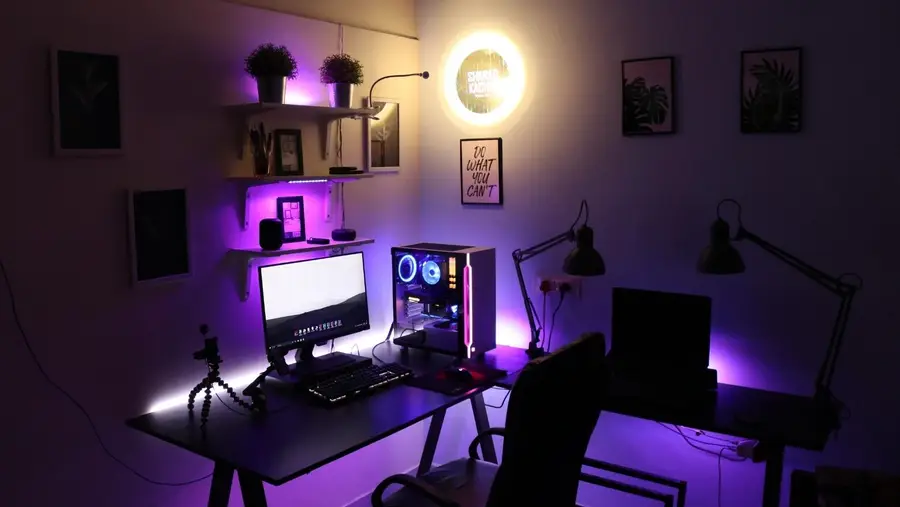 One of my favorite parts of switching from console to PC gaming was choosing my gaming accessories. Accessories can enhance and personalize your gaming experience.
Here are ten gaming accessories to consider, including the number one accessory that every gamer should invest in.
10 gaming accessories to consider
A gaming keyboard – Finding the right keyboard can make gaming a more comfortable and fun experience for long periods of time.
A headset – If you're an MMO or co-op gamer, a headset is the perfect addition for you to collaborate with your friends and fellow gamers.
Speakers – Having separate speakers from your system can create an immersive surround sound experience.
An ergonomic chair – It's no secret that PC gaming can be uncomfortable in the wrong chair, which makes an ergonomic chair with good lumbar support a solid gaming investment.
A high-resolution monitor – A high-resolution monitor is the perfect way to display your GPU's fullest capabilities.
A gaming controller – While a keyboard and mouse is standard for PC gaming, you can opt for a controller if that's your preferred method of game control.
Ambient LED lighting – LED lights can transform any gaming setup with personalized color-changing elements.
A gaming mouse pad – Most gaming mousepads are larger than the standard mouse pad (fitting both your keyboard and your mouse) and come lined with LED strips to add a colorful flare.
Blue light reduction glasses – Blue lights can cause eye strain and disrupt sleeping patterns. Blue light glasses are a fashionable way to minimize adverse effects.
A streaming kit – If you're interested in streaming your gaming experience, a streaming kit is a must.
The accessory every gamer needs
A high-performance gaming mouse. Whether you went the laptop, desktop, or custom build route, you need a high-quality mouse that will support your gaming style.
This is especially important for laptop gamers because your PC's trackpad isn't as responsive or comfortable as a gaming mouse.
Logitech gaming mice are fan favorites, and they come with a variety of features to match any budget and gaming need.
With your gaming rig set up and your accessories ordered, you're ready for the fun part.
You're ready to start gaming.
Step 6: Download Steam and start playing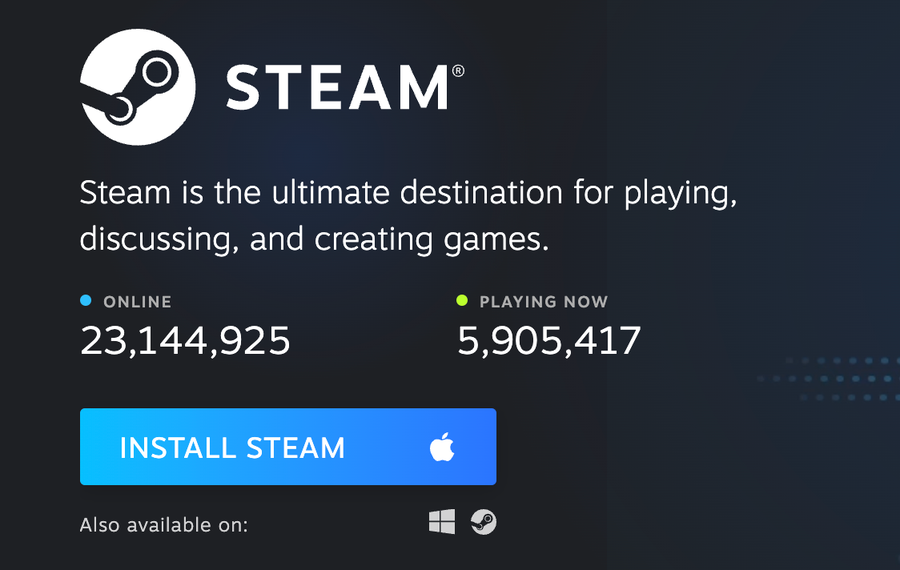 Since PC gaming is completely digital these days, you can start gaming the minute you hook your system up to your internet by downloading Steam.
Steam is one of the most popular online game platforms available, and creating an account is free and easy.
How to download Steam
Visit the Steam website.
Download Steam by clicking the blue button on the homepage that says Install Steam.
Follow the on-screen download prompts.
Once Steam is downloaded on your computer, launch the program and create an account (this will be the first screen you see when you launch Steam).
Boom! You're ready to search through the extensive Steam library. After you connect your credit or debit card to your account, you're ready to start building your PC gaming library.
Happy gaming!